NEW ORLEANS MAN PLEADS TO STEALING CHECKS FROM MAILBOXES AND BANK FRAUD
July 6, 2011
GREGORY HERNANDEZ, age 55, a resident of New Orleans, Louisiana, pleaded guilty before U.S. District Judge Stanwood R. Duval, Jr. to a five-count bill of information for theft of mail, possession of stolen mail and conspiracy to commit bank fraud, announced U. S. Attorney Jim Letten.
According to the court documents, beginning in approximately December 2007, HERNANDEZ stole personal and business checks belonging to other individuals from U. S. Postal Service mailboxes in New Orleans. HERNANDEZ fraudulently altered and forged the dollar values inscribed on the stolen checks, together with the names of the legitimate "payees," replacing them with the names of his accomplices. From December 2007 until July 2010, HERNANDEZ stole approximately 100 checks amounting to at least $60,000 in losses to area banks.
Gary Barksdale, Postal Inspector in Charge, stated:
"The working relationship between Postal Inspectors and the New Orleans Police Department has been mutually beneficial and helped prevent many people from becoming further victimized, reduced the financial damage, and personal inconvenience suffered by this crime. When the postal system is attacked, it is our jobs as Postal Inspectors to aggressively investigate and with the continued cooperation of local agencies, like the New Orleans Police Department, we will be better able to protect the citizens of New Orleans."
HERNANDEZ faces a maximum term of imprisonment of thirty (30) years and/or a $1 million dollar fine. Sentencing has been scheduled for November 2, 2011.
The case was investigated by the United States Postal Inspection Service and United States Secret Service, together with the New Orleans Police Department and the St. Charles Parish Sheriff's Office.
(Download Factual Basis

)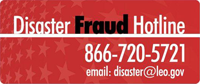 If you believe you have been a victim of fraud from a person or an organization soliciting relief funds on behalf of storm victims or have knowledge of waste, abuse, or allegations of mismanagement involving disaster relief operations, contact the National Center for Disaster Fraud toll free at: (866) 720-5721. You can also fax information to: (225) 334-4707 or e-mail it to: disaster@leo.gov