FORMER GENERAL MANAGER OF NEW ORLEANS PUBLIC BELT RAILROAD PLEADS GUILTY IN FEDERAL COURT
August 31, 2011
JAMES BRIDGER, a resident of New Orleans, Louisiana and a former General Manger of the New Orleans Public Belt Railroad, pled guilty to Count 1 of a bill of information which charged him with misapplication of moneys and assets of a carrier in interstate commerce, announced U. S. Attorney Jim Letten.
According to court documents, between 2007 and 2010, BRIDGER unlawfully misapplied moneys and assets from the New Orleans Public Belt Railroad. BRIDGER is accused of personally using the moneys and assets of the carrier, which were derived from revenues generated from interstate commerce. BRIDGER is accused of paying for various personal entertainment expenses such as meals, entertainment and alcoholic beverages which he charged to his New Orleans Public Belt Railroad credit card and for which he received reimbursement from NOPBRR funds.
U.S. Attorney Letten acknowledges the contribution of the Metropolitan Crime Commission in bringing this matter to the attention of the New Orleans District Attorney and Federal Law Enforcement authorities. Jim Letten notes that the good work of the District Attorney and the MCC, along with the members of the press in rooting out corruption, enables law enforcement authorities in both the local and federal spheres to enforce the criminal statutes within their respective jurisdictions.
The case was investigated by the Federal Bureau of Investigation and Internal Revenue Service and is being prosecuted by Assistant United States Attorneys Michael W. Magner and G. Dall Kammer.
(Download Factual Basis

)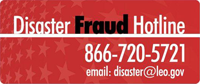 If you believe you have been a victim of fraud from a person or an organization soliciting relief funds on behalf of storm victims or have knowledge of waste, abuse, or allegations of mismanagement involving disaster relief operations, contact the National Center for Disaster Fraud toll free at: (866) 720-5721. You can also fax information to: (225) 334-4707 or e-mail it to: disaster@leo.gov