THREE DEFENDANTS SENTENCED ON DRUG CHARGES IN FEDERAL COURT
September 7, 2011
MINH TRAN, age 25, a resident of New Orleans, Louisiana, LIONELL ADAMS, age 25, a resident of Laplace, Louisiana, and JOSEPH SANDERS, age 31, a resident of Jackson, Mississippi, were sentenced today by U. S. District Judge Sarah S. Vance for their roles in a drug conspiracy involving benzylpiperazine ("BZP"), announced U. S Attorney Jim Letten. Judge Vance sentenced TRAN to 18 months imprisonment, ADAMS to 37 months imprisonment, and SANDERS to 57 months imprisonment. In addition to the term of imprisonment, Judge Vance imposed three (3) years of supervised release following the term of imprisonment. During the three-year term the defendants will be under federal supervision and risk additional terms of imprisonment should they violate any terms of supervised release.
The defendants had previously pleaded guilty in this matter. According to court documents, agents with the Drug Enforcement Administration used a confidential source to order 1,000 ecstacy tablets from ADAMS. On February 1, 2010, the confidential source met with ADAMS in the parking lot of the Lakeside Shopping Center in Metairie, Louisiana. After briefly meeting with the confidential source, ADAMS went to another area in the parking lot and met with TRAN and SANDERS. ADAMS and TRAN then met again with the confidential source, who negotiated a price for the transaction. TRAN eventually retrieved one pill from an Acura that was parked in the lot. Thereafter, agents moved in an arrested TRAN, SANDERS, and ADAMS. Agents searched the Acura and discovered approximately 939 tablets of ecstacy. All three persons admitted to their actions. Subsequent testing of the suspected ecstacy revealed the substance to actually be benzylpiperazine.
This case was investigated by Special Agents of the Drug Enforcement Administration. The case was prosecuted by Assistant United States Attorney Kevin G. Boitmann.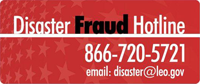 If you believe you have been a victim of fraud from a person or an organization soliciting relief funds on behalf of storm victims or have knowledge of waste, abuse, or allegations of mismanagement involving disaster relief operations, contact the National Center for Disaster Fraud toll free at: (866) 720-5721. You can also fax information to: (225) 334-4707 or e-mail it to: disaster@leo.gov