ST. JOHN THE BAPTIST MAN SENTENCED TO OVER 5 YEARS FOR ARSON AND WIRE FRAUD
September 8, 2011
LESTER GARDNER, JR., age 29, a resident of Reserve, Louisiana, was sentenced today by U. S. District Judge Carl J. Barbier to sixty-nine (69) months in jail for his role in a 2007 fire at the St. John the Baptist Housing Authority public housing complex in Reserve, Louisiana, announced U. S. Attorney Jim Letten. In addition to the term of imprisonment, Judge Barbier imposed three (3) years of supervised release following the term of imprisonment, during which time the defendant will be under federal supervision and risks an additional term of imprisonment should he violate any terms of his supervised release.
GARDNER pled guilty in federal court to a federal felony involving the arson of their public housing unit in 2007 as part of a wire fraud scheme to collect on his co-defendant's fire insurance policy.
According to court documents, NIASHA KING and GARDNER conspired with ORLANDO LEE BROWN to start a fire in their apartment on March 4, 2007 in an attempt to collect on KING's personal property insurance with Union National Fire Insurance Company. The building, containing two apartments and owned by the St. John the Baptist Parish Housing Authority was destroyed by the fire. According to court documents the defendants agreed that KING would falsely claim that the fire was started by the apartment's bad electrical wiring. Prior to the fire, GARDNER removed property from the apartment. After the fire KING and GARDNER filed a false fire loss form which was transmitted across state lines by facsimile resulting in the payment of the policy proceeds to KING.
Niasha King is scheduled to be sentenced on October 6, 2011. Orlando Lee Brown had previously plead guilty to his involvement in the arson and was sentenced to 30 months imprisonment.
The case was investigated by Special Agents for the Federal Bureau of Alcohol, Tobacco and Explosives ("ATF"), the Louisiana State Fire Marshall's Office and the St. John the Baptist Parish Sheriff's Office and was prosecuted by Assistant United States Attorneys Tony Gordon Sanders and Abram McGull.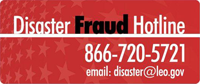 If you believe you have been a victim of fraud from a person or an organization soliciting relief funds on behalf of storm victims or have knowledge of waste, abuse, or allegations of mismanagement involving disaster relief operations, contact the National Center for Disaster Fraud toll free at: (866) 720-5721. You can also fax information to: (225) 334-4707 or e-mail it to: disaster@leo.gov