FORMER N.O.P.D. CAPTAIN SENTENCED TO OVER 11 YEARS IN FEDERAL PRISON
September 8, 2011
MICHAEL ROUSSEL, age 46, a former Captain with the New Orleans Police Department, was sentenced today by U. S. District Court Judge Carl J. Barbier to 136 months imprisonment, announced U. S. Attorney Jim Letten. In addition to the term of imprisonment, Judge Barbier imposed three (3) years of supervised release following the term of imprisonment, during which time the defendant will be under federal supervision and risks an additional term of imprisonment should he violate any terms of his supervised release. Additionally, ROUSSEL was also ordered to pay a $10,000 fine.
ROUSSEL was convicted by a federal jury on April 1, 2011 for conspiracy to commit wire fraud and two counts of wire fraud.
In June 2010, ROUSSEL contacted a cooperating witness at Entergy and told him that he (ROUSSEL) had a friend, Joseph Branch who lived in Texas and owned a company that provided security services. ROUSSEL told the witness that if he gave ROUSSEL's friend a contract, ROUSSEL's friend would provide money to both ROUSSEL and the cooperating witness.
The cooperating witness then met with ROUSSEL and his friend, Branch, the owner of Gladius, Inc., (Gladius) in New Orleans. During this meeting, Branch indicated that he sought at least $75 per hour, per guard, and asked what the maximum hourly rate that Entergy would pay. Ultimately, they agreed to an hourly rate of $89.50 per hour, per guard with an inflated portion of approximately $15.00 per hour, per guard. The cooperating witness, Branch and ROUSSEL then agreed to split the $15.00 inflated fraudulent charge equally, that being $5.00 to the witness, $5.00 to Branch and $5.00 to ROUSSEL.
On June 22, 2010, the witness, ROUSSEL, and Branch met and signed a contract wherein Gladius would provide armed guards to Entergy after a hurricane. The hourly rate charged by Gladius to Entergy, would be inflated by approximately $15.00 per hour, per guard to cover the above described payments to the cooperating witness, Branch and ROUSSEL.
Joseph Branch pled guilty on March 10, 2011 to Count 1 of a Superseding Indictment which charged Branch with conspiring to defraud Entergy Services, Inc. and the Federal Government. Sentencing for Branch is scheduled for October 20, 2011.
This case was investigated by the Federal Bureau of Investigation. This matter was prosecuted by Assistant United States Attorneys Michael W. Magner and Harry W. McSherry, Jr.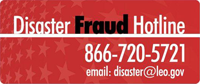 If you believe you have been a victim of fraud from a person or an organization soliciting relief funds on behalf of storm victims or have knowledge of waste, abuse, or allegations of mismanagement involving disaster relief operations, contact the National Center for Disaster Fraud toll free at: (866) 720-5721. You can also fax information to: (225) 334-4707 or e-mail it to: disaster@leo.gov