U. S. COURT OF APPEALS UPHOLDS 30 YEAR PRISON SENTENCE FOR MAN WHO OPERATED $20 MILLION INVESTMENT PONZI SCHEME
September 9, 2011
Today, the United States Court of Appeals for the Fifth Circuit affirmed the 30 year prison sentence for MATTHEW PIZZOLATO who operated the largest Ponzi Scheme in Louisiana's history.
In a 15 page written opinion, circuit Judge W. Eugene Davis wrote, "[w]e find no merit to defendant's arguments and affirm." The Court of Appeals concluded that the district court "independently decided to impose the statutory maximum sentence on Pizzolato."
According to court documents, PIZZOLATO was convicted on April 1, 2010 of numerous federal charges including mail fraud, wire fraud, money laundering, securities fraud, and witness tampering involving his operation of an investment Ponzi scheme. During the time period of 2005 through the date of the indictment, PIZZOLATO spent nearly all of the money. On July 22, 2010, U. S. District Judge Lance Africk sentenced PIZZOLATO to thirty (30) years in prison for his crimes and ordered him to make over $15 million in restitution to the 165 victims he defrauded.
PIZZOLATO was affiliated with and/or operated and/or owned Gulf Region Guaranty, Inc. and its affiliated companies Acadian Guaranty Group, LLC; Allegiance Financial, LLC; Annuity Presets, LLC; Annuity Recovery Services, LLC; Anova Marketing Systems, LLC; Anytime Fitness of Sulphur, LLC; Cornerstone Wealth Management, LLC; Global Assured Financial, Inc.; Green Pelican Group, Inc.; Gulf States Guaranty, LLC; GRG Holdings, LLC; GRG I, LLC; GRG II, LLC; Matt P, LLC; National Insurance Advisors, LLC; Pelican Guaranty Group, Inc.; and Spectrum Lending Group, LLC. PIZZOLATO maintained offices in Hammond, Covington, Lake Charles, Baton Rouge, and also conducted business in the New Orleans metropolitan area.
During this time period, PIZZOLATO operated an investment Ponzi scheme targeting older investors, specifically retirees. He lured his potential victims through advertisements in the local daily newspapers in New Orleans, Baton Rouge and Hammond by promising rates of returns that were higher than market rates for CDs or U.S. Treasury Bills. These advertisements described PIZZOLATO'S investments as "guaranteed", "safe", "conservative", "insured", and "no-risk." In many cases, PIZZOLATO would assure investors that they were invested in U.S. Treasury Bills, CDs, or another government-backed securities.
PIZZOLATO used the investors' money to build a new half-million dollar home in Ponchatoula, Louisiana; to purchase luxury items such as a BMW 750LI, a Mercedes Benz S430V, a Range Rover Sport, and a Chevrolet Corvette, and a $35,000.00 engagement ring; to make payments totaling millions of dollars to friends and family; to make invest in high-risk futures trading and/or commercial real estate; and to provide lulling payments to investors in an effort to conceal the true nature of the Ponzi scheme.
The appeal was handled by Assistant United States Attorney Brian M. Klebba.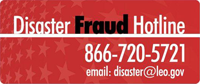 If you believe you have been a victim of fraud from a person or an organization soliciting relief funds on behalf of storm victims or have knowledge of waste, abuse, or allegations of mismanagement involving disaster relief operations, contact the National Center for Disaster Fraud toll free at: (866) 720-5721. You can also fax information to: (225) 334-4707 or e-mail it to: disaster@leo.gov