LEADER OF 3NG GANG CONVICTED OF MULTI-KILOGRAM COCAINE AND HEROIN CONSPIRACY
September 16, 2011
KENRIC RODNEY, age 35, a resident of New Orleans, was convicted by a jury last night in the United States District Court for the Eastern District of Louisiana for conspiracy to distribute and to possess with the intent to distribute five (5) kilograms or more of cocaine hydrochloride, 280 grams or more of cocaine base ("crack") and a quantity of heroin. The jury also found RODNEY guilty of two counts of distribution of cocaine base ("crack"), announced U. S. Attorney Jim Letten. RODNEY'S co-defendant, Derrick Fleming, a peripheral member of 3NG, was acquitted of his charges.
In 2009, DEA began an investigation into the drug activities of RODNEY at the request of the New Orleans Police Department, who had developed RODNEY as a suspect in at least two murders. The investigation revealed that RODNEY was one of the top leaders of 3NG, a notoriously violent drug gang in New Orleans. 3NG refers to the area in New Orleans located at Third and Galvez Street and to those who deal drugs there. RODNEY was responsible for moving large quantities of cocaine and heroin throughout the City of New Orleans and was a source for drugs for other high level drug dealers who operated outside the area of 3NG. RODNEY was the main supplier of drugs to the lower level members of 3NG.
RODNEY has an extensive criminal history, which includes, among others, arrests for distribution of cocaine, illegal use of a weapon, and possession of a firearm during a narcotic crime. RODNEY also has a prior federal conviction from the Eastern District of Texas for possession with the intent to distribute five grams of more of crack cocaine, whereby RODNEY and his co-defendant, were caught transporting a kilogram of cocaine, 15 grams of crack cocaine and some marijuana in a secret compartment of a car from the Houston, Texas area.
RODNEY'S sentencing date has yet to be scheduled.
The case was investigated by agents with the Drug Enforcement Administration and prosecuted by Assistant United States Attorneys Elizabeth Privitera and Maurice Landrieu.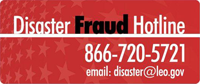 If you believe you have been a victim of fraud from a person or an organization soliciting relief funds on behalf of storm victims or have knowledge of waste, abuse, or allegations of mismanagement involving disaster relief operations, contact the National Center for Disaster Fraud toll free at: (866) 720-5721. You can also fax information to: (225) 334-4707 or e-mail it to: disaster@leo.gov