HBPA FORMER FARM AND FIELD DIRECTOR SENTENCED FOR CONSPIRACY TO COMMIT IDENTITY THEFT
September 22, 2011
CINDY ROMERO, AKA CRICKET ROMERO, age 50, a resident of Metairie, Louisiana, was sentenced today by U. S. District Judge Lance M. Africk to three (3) years of probation with the special condition of six (6) months home detention, a $3,000 fine, and a $100 special assessment on her guilty plea to conspiracy to commit identity theft, announced U. S. Attorney Jim Letten.
ROMERO had faced a maximum penalty of five (5) years imprisonment and/or a $250,000 fine. However, she pleaded guilty and agreed to cooperate with the government's continuing investigation. The government filed a motion for a downward departure under the sentencing guidelines and recommended a sentence of probation in recognition of her early acceptance of responsibility and cooperation.
According to court documents, ROMERO was employed by the Louisiana Horsemen's Benevolent and Protective Association (HBPA) since June 2007. The HBPA is a nonprofit corporation recognized by Louisiana law as the representative of horsemen racing horses in the State. Members of the HBPA were eligible to vote in the HBPA election held in March 2008. In order for ballots to be counted as valid, they had to bear the Social Security number of a member eligible to vote and the ballot had to be received via the U.S. mail.
In pleading guilty to the charges, ROMERO admitted that she had entered into a conspiracy to rig the outcome of the HBPA March 2008 election by conspiring to use, without lawful authority, Social Security numbers of HBPA members in connection with the federal crime of mail fraud. Her co-conspirators included Sean Alfortish, an attorney and president of the HBPA running for his second term of office in the March 2008 election, and Mona Romero, the executive director of the HBPA. The effort to rig the election was successful and Alfortish was elected to a second term of office as president, and all candidates for the board of directors favored by Alfortish and Mona Romero were elected as board members. In contrast, all former members of the board of directors who stood for reelection who had challenged Alfortish's and Mona Romero's management of the HBPA's finances during Alfortish's first term were not reelected as directors.
Alfortish and Mona Romero each have pleaded guilty to conspiracy in the case. Mona Romero is scheduled to be sentenced on October 27, 2011, and Sean Alfortish is scheduled to be sentenced on December 15, 2011 by Judge Eldon Fallon.
ROMERO admitted that she made airline reservations for three co-conspirators, herself, Mona Romero, and another employee of the HBPA to fly to the States of Ohio, Kentucky, Texas and Florida, to mail falsified ballots. She also admitted flying to Ohio and Kentucky and mailing the falsified ballots and causing another person to mail them. The ballots contained Social Security numbers of HBPA members used without the members' knowledge or consent.
The case was investigated by agents from the United States Postal Inspection Service and the United States Department of Labor, Employee Benefits Security Administration, Dallas Regional Office.
The case is being prosecuted by Assistant U. S. Attorneys Eileen Gleason, G. Dall Kammer, and Patrice Harris Sullivan.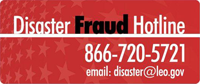 If you believe you have been a victim of fraud from a person or an organization soliciting relief funds on behalf of storm victims or have knowledge of waste, abuse, or allegations of mismanagement involving disaster relief operations, contact the National Center for Disaster Fraud toll free at: (866) 720-5721. You can also fax information to: (225) 334-4707 or e-mail it to: disaster@leo.gov