TAX PREPARER AND FORMER SHERIFF'S DEPUTY SENTENCED
September 22, 2011
TAMARA SCOTT-LANDRY, age 37 and her husband WARREN LEBEAUF, JR., age 42, both residents of St. Charles Parish, were sentenced today in federal court today before U. S. District Judge Carl Barbier, announced U. S. Jim Letten and James C. Lee, Special Agent in Charge, Internal Revenue Service, Criminal Investigation. SCOTT-LANDRY was sentenced to 87 months imprisonment for conspiracy to defraud the United States, wire fraud and aggravated identity theft. LEBEAUF was sentenced to 30 months imprisonment for his role in the conspiracy with SCOTT-LANDRY.
According to court documents, on or about February 19, 2004, SCOTT-LANDRY, doing business as Scott's Accounting Service, applied for and was granted an Electronic Filers Identification Number (EFIN) by the IRS. A tax business obtains an EFIN in order to electronically prepare and transmit, via computer, tax returns to the Internal Revenue Service. An EFIN also allows a return preparer the ability to offer a variety of tax refund products including cashier's checks, prepaid cash cards, or debit cards. As part of her business practices, SCOTT-LANDRY, used a computer to electronically file tax returns.
WARREN S. LEBEAUF, JR. was employed by the St. Charles Parish Sheriff's Office since 1989 and earned the rank of lieutenant. In his position as a St. Charles Parish Sheriff's Deputy, LEBEAUF had the ability to obtain individuals' personal information to include names, dates of birth, and social security numbers through the Louisiana Law Enforcement Telecommunications System (LLETS). The LLETS system can be accessed through a computer terminal staged at the St. Charles Parish 911 Call Center. In his position, LEBEAUF had the ability to request that the 911 call center provide him with information from the LLETS system. In order to assist SCOTT-LANDRY, LEBEAUF abused his position and exceeded his authority by collecting the personal information of individuals so that false tax returns could be filed.
Evidence would show that SCOTT-LANDRY provided a list of prison inmate names to LEBEAUF. LEBEAUF then had the names run through the St. Charles Parish 911 call center LLETS system. LEBEAUF met a 911 call center operator at a park to receive over 4,000 pages of printouts from the LLETS system, and paid the operator $100.
LEBEAUF then provided the printouts to SCOTT-LANDRY so that she could use the personal information to file fraudulent tax returns. The tax forms filed with the IRS made the returns payable to cashiers checks and stored value cards that SCOTT-LANDRY possessed as part of her tax-preparation business. The funds were then deposited into bank accounts controlled by LEBEAUF and SCOTT-LANDRY.
The money funded to the stored value cards was then withdrawn by SCOTT-LANDRY at ATM machines. In one instance, after SCOTT-LANDRY withdrew nearly $26,000 in cash over a three-day period, SCOTT-LANDRY and LEBEAUF went to a Chevrolet dealership and purchased a 2004 Chevrolet Suburban with a paper bag full of the cash.
At a subsequent search warrant, at SCOTT-LANDRY's residence, inmate names, stored value cards, and other items used in the fraud were found in the 2004 Chevrolet Suburban parked in SCOTT-LANDRY's driveway. During the search warrant, in the presence of almost a does armed IRS agents, LEBEAUF arrived with an unknown individual and attempted to abscond with the vehicle and evidence.
Speaking on today's fraud conviction, Special Agent in Charge Lee stated:
"IRS Criminal Investigation has made investigating refund fraud and identity theft a top priority. Filing fraudulent tax returns in the names of other individuals may result in significant harm to those individuals whose identities were stolen, as well as monetary loss against the U. S. Treasury."
U. S. Attorney Letten and Special Agent in Charge Lee, as well as the investigative and prosecution team, offer their thanks to Sheriff Greg Champagne and the St. Charles Parish Sheriff's Office for providing valuable assistance in this investigation and for their outstanding law enforcement partnership.
The case was investigated by the Internal Revenue Service, Criminal Investigation Division. The prosecution is being handled by Assistant U. S. Attorneys G. Dall Kammer and Jon Maestri.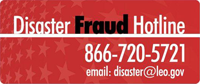 If you believe you have been a victim of fraud from a person or an organization soliciting relief funds on behalf of storm victims or have knowledge of waste, abuse, or allegations of mismanagement involving disaster relief operations, contact the National Center for Disaster Fraud toll free at: (866) 720-5721. You can also fax information to: (225) 334-4707 or e-mail it to: disaster@leo.gov