BULK STORAGE COMPANY PLEADS GUILTY IN FEDERAL COURT TO MISDEMEANOR VIOLATION OF THE CLEAN WATER ACT
October 13, 2011
STOLTHAVEN NEW ORLEANS, LLC pled guilty today to an environmental crime involving the discharge of 454,465 gallons of a solution of flurosilicic acid from its facility on March 17, 2008, into the Mississippi River, announced U. S. Attorney Jim Letten.
STOLTHAVEN pled guilty before U. S. Magistrate Judge Alma L.Chasez to a one count misdemeanor violation of the Clean Water Act. The maximum penalty STOLTHAVEN faces is a fine of up to $200,000 and a term of probation up to three (3) years. Sentencing has been scheduled for January 12, 2012 at 3:00 p.m.
The government filed a Bill of Information on July12, 2011 charging STOLTHAVEN with a violation of the Clean Water Act by having knowledge of the corrosivity of FSA and of the past leaks which had occurred and negligently not having a storage tank or other provision available in the event of an emergency. STOLTHAVEN admitted that the discharge of 454, 465 gallons of FSA into a navigable water of the United States, the Mississippi River, would not have occurred had STOLTHAVEN used a rubber-lined tank to properly and safely store the FSA and had STOLTHAVEN had an emergency storage tank available on March 17, 2008. Through its negligence, which was not revealed to state and federal agencies, STOLTHAVEN placed state and federal agencies in a position of having to authorize the discharge of the FSA into the Mississippi River in order to avert an even greater threat to human health and the environment.
Speaking on today's guilty plea, Peggy Hatch, Secretary for the Louisiana Department of Environmental Quality stated:
"It is important that there are consequences when environmental regulations are broken. In this instance, the Mississippi River suffered from an illegal discharge. I'm proud that EPA, DEQ, Louisiana State Police, and the Department of Justice have worked together to reach the proper penalty for Stolthaven, the company involved. Hopefully, this will serve as a deterrent to others while inspiring facilities to abide by the environmental laws in place to protect human health and the environment."
Ivan Vikin, Special Agent in Charge of EPA's Criminal Enforcement Program in Louisiana, added:
"Facilities operating in our backyards have a responsibility to follow the nation's environmental laws, which are designed to protect our rivers and public health. The solid waste in this case is extremely corrosive. The defendant knowingly stored it in an inadequate manner which ultimately led to a release of a half-million gallons of toxic chemical into the Mississippi River."
Additionally, U. S. Attorney Jim Letten stated:
"The protection of our precious environment is a critical mission which we take very seriously. Stated simply, we will not tolerate the illegal discharges of harmful solutions into our waterways, nor will we tolerate the negligent handling of dangerous chemicals by the companies which are required to handle them carefully in order to protect our people and the environment.
This case was investigated by the United States Environmental Protection Agency- Criminal Investigative Division , the United States Coast Guard Criminal Investigative Service, the Department of Environmental Quality-Criminal Investigative Division, and was prosecuted by Assistant United States Attorney Dorothy Manning Taylor.
(Download Factual Basis

)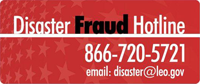 If you believe you have been a victim of fraud from a person or an organization soliciting relief funds on behalf of storm victims or have knowledge of waste, abuse, or allegations of mismanagement involving disaster relief operations, contact the National Center for Disaster Fraud toll free at: (866) 720-5721. You can also fax information to: (225) 334-4707 or e-mail it to: disaster@leo.gov