Harvey man guilty of failing to register as sex offender
November 16, 2011
JOHN MAUTINO, age 36, a resident of Harvey, Louisiana, pled guilty in federal court today before United States District Court Judge Ivan L.R. Lemelle, to failing to register as a sex offender, announced U. S. Attorney Jim Letten.
MAUTINO admitted that in 2005 he entered a plea of guilty in a previous case, to interstate violation of a protective order. That particular charge contained a sentencing enhancement, as it was alleged that the defendant engaged in a sex act with a fourteen (14) year old. As a result, he was sentenced to serve a sixty-two (62) month sentence in the custody of the Bureau of Prisons.
MAUTINO admitted that when he was convicted for that offense, he was advised that he would have to register as a sex offender for the rest of his life and understood that he was required to complete a Sex Offender Registration/Change of Address/Annual or Other Update Form (Registration Form) every year within 5 days of his birthday and/or any time that he changed his address. MAUTINO also admitted that when he completed this Registration Form, he understood that he was to provide his thumb print and sign that he understood that the responsibility to register as a sex offender is a lifetime requirement; that if he were to change his registered address to a new address, either within the same jurisdiction, or anywhere inside or outside of the state, he must inform the last registering agency or agencies in person within five (5) working days before he were to move; and that if he were to move outside of Louisiana, he is required to register in the new state within ten (10) working days.
MAUTINO served his sentence for the 2005 crime and was released from the United States Bureau of Prisons. His federal supervised release term began on March 23, 2011. On March 24, 2011, MAUTINO began the sex offender registration process with the Jefferson Parish Sheriff's Office and registered with an address in Harvey, Louisiana. MAUTINO admitted that only four (4) days later on March 28, 2011, he moved from his registered address to a motel without notifying law enforcement authorities. MAUTINO then moved from Louisiana to Georgia, on April 17, 2001, and again failed to notify law enforcement authorities as to his status as a sex offender.
Since MAUTINO was a person required to register under the Sex Offender Registration and Notification Act, traveled in interstate commerce and failed to register and update his registration, he was charged on October 13, 2001, with the current offense.
MAUTINO faces up to ten (10) years imprisonment and a fine of $250,000. Sentencing has been scheduled for February 22, 2012.
The case was investigated by the Special Agents of the United States Marshals Service and the Jefferson Parish Sheriff's Office. The prosecution is being handled by Assistant United States Attorney Jon Maestri.
(Download Factual Basis

)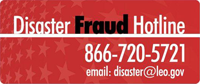 If you believe you have been a victim of fraud from a person or an organization soliciting relief funds on behalf of storm victims or have knowledge of waste, abuse, or allegations of mismanagement involving disaster relief operations, contact the National Center for Disaster Fraud toll free at: (866) 720-5721. You can also fax information to: (225) 334-4707 or e-mail it to: disaster@leo.gov