OWNER OF LOCAL MEDICAID AGENCY SENTENCED IN FEDERAL COURT FOR FEDERAL HEALTH CARE OFFENSE
November 22, 2011
TERRA WASHINGTON, age 40, a resident of Marrero, Louisiana, was sentenced today in federal court by U.S. District Judge Martin L. C. Feldman to five years of probation for health care fraud, announced U.S. Attorney Jim Letten. As part of the probation, WASHINGTON was placed on home detention for a period of eighteen (18) months during which time she will be electronically monitored. Judge Feldman also ordered that WASHINGTON pay restitution to the Louisiana Department of Health and Hospitals in the amount of $1,249,489, and pay a $100 special assessment.
According to court documents, WASHINGTON pleaded guilty on June 8, 2011, to a violation of Title 18, United States Code, Section 1347, health care fraud. WASHINGTON was the owner/operator of A Small World in the River Region, a Medicaid provider that made claims for Personal Care Services it claimed to have provided to Medicaid recipients.
Personal Care Services (PCS) are Medicaid services provided by attendants to eligible recipients meeting the medical necessity criteria who are unable to care for themselves. Small World solicited mothers with children who had Medicaid benefits to apply for PCS. Medicaid approved the PCS applications. False documentation containing employees' time sheets and daily schedules which detailed the services allegedly rendered to Medicaid recipients was created by Small World employees.
From the time of the inception of Small World through approximately August 13, 2008, Medicaid paid approximately $1,249,489 as a result of the fraudulent claims made by Small World and its employees.
This case was investigated by the Federal Bureau of Investigation, the U. S. Department of Health and Human Services, Office of Inspector General, and the Louisiana Medicaid Fraud Control Unit. The prosecution was handled by Assistant United States Attorney Patrice Harris Sullivan.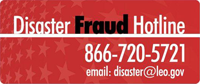 If you believe you have been a victim of fraud from a person or an organization soliciting relief funds on behalf of storm victims or have knowledge of waste, abuse, or allegations of mismanagement involving disaster relief operations, contact the National Center for Disaster Fraud toll free at: (866) 720-5721. You can also fax information to: (225) 334-4707 or e-mail it to: disaster@leo.gov