HARVEY BOOKKEEPER SENTENCED FOR EMBEZZLING FROM HER EMPLOYER AND FAILING TO COLLECT AND PAY OVER $174,000 IN TAXES
December 7, 2011
HEATHER CHAISSON, a resident of Harvey, Louisiana, was sentenced today by United States District Judge Helen G. Berrigan to 27 months in prison, followed by three (3) years of supervised release for failing to collect and pay over taxes she was obligated to collect on behalf of her employer, announced United States Attorney Jim Letten. She was also ordered to pay restitution in the amount of $27,336.39 to the Internal Revenue Service and $324,621.56 to her employer for her criminal conduct.
.
According to the court documents, between May 2007 and June 2008, CHAISSON worked as the bookkeeper at a New Orleans-based software design company. As the bookkeeper, she had the authority and responsibility to oversee her employer's accounting and payroll, including collecting and paying federal taxes. Instead of lawfully fulfilling these duties, CHAISSON used her position to add money to her own paycheck, issue herself extra payroll checks, and cause company money to be directly deposited into her personal bank account. CHAISSON then concealed these payments by creating records indicating that these funds were either being paid to other creditors or being used as tax withholdings for employees of the company. As a result of her conduct, CHAISSON'S employer failed to make over $174,000 of required tax payments to the Internal Revenue Service. She also failed to pay taxes on her embezzled funds, resulting in a $27,336.39 tax loss of the IRS.
The case was investigated by the Internal Revenue Service - Criminal Investigation. The case was prosecuted by Assistant United States Attorney Jordan Ginsberg.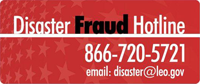 If you believe you have been a victim of fraud from a person or an organization soliciting relief funds on behalf of storm victims or have knowledge of waste, abuse, or allegations of mismanagement involving disaster relief operations, contact the National Center for Disaster Fraud toll free at: (866) 720-5721. You can also fax information to: (225) 334-4707 or e-mail it to: disaster@leo.gov