STUDENT ARRESTED FOR SENDING THREATENING COMMUNICATIONS TO LOYOLA UNIVERSITY
December 15, 2011
EVELYN A. HUBBARD, age 21, a resident of Algiers, Louisiana., was arrested by agents of the Federal Bureau of Investigation on Friday, December 9, 2011, on a criminal complaint, for sending threatening communications through interstate commerce.

According to documents filed in federal court, HUBBARD sent two separate emails to the Loyola University Police Department on November 17, 2011. The first email, received at 9:00 a.m., threatened five unnamed professors in Monroe Hall and called for an immediate evacuation of the building by 9:33 a.m. The second email was sent at 9:27 and communicated a threat to blow up Monroe Hall.
The Loyola University Police Department contact the F.B.I. The emails were traced by the F.B.I. and it was determined that the first email was sent from a Loyola University computer and the second from a cell phone. The F.B I. determined that HUBBARD had access to the computer that morning and that the second email was sent from a cell phone linked to HUBBARD.

HUBBARD was interviewed by the F.B.I. and admitted to sending both emails. She stated that she was a student at Loyola University and had a test in Monroe Hall the morning the emails were sent. She further added that she sent the emails as "a joke."

On Friday, December 9, 2011, HUBBARD was brought before U. S. Magistrate Judge Sally Shushan. HUBBARD was released on a $10,000 personal surety bond signed for by her mother. Judge Sally Shushan scheduled a preliminary hearing on December 29, 2011, at 2:00 pm.
If convicted, HUBBARD faces a maximum term of five (5) years imprisonment, and a $250,000.00 fine.
This case is being investigated by Special Agent Kevin Miller of the F.B.I.'s local Joint Terrorism Task Force. The prosecution of this case is being handled by Assistant United States Attorney Greg Kennedy.
.
(Download Factual Basis

)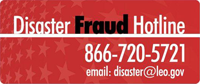 If you believe you have been a victim of fraud from a person or an organization soliciting relief funds on behalf of storm victims or have knowledge of waste, abuse, or allegations of mismanagement involving disaster relief operations, contact the National Center for Disaster Fraud toll free at: (866) 720-5721. You can also fax information to: (225) 334-4707 or e-mail it to: disaster@leo.gov