TWO NEW ORLEANS MEN SENTENCED TO 24 MONTHS IN FEDERAL PRISON FOR SUPERVISED RELEASE VIOLATIONS INVOLVING A MURDER
December 16, 2011
CHRIS WILLIAMS, age 28, and JEREL CLAVO, age 26, both residents of New Orleans, Louisiana, were sentenced yesterday by U. S. District Judge Carl J. Barbier to the maximum term of imprisonment of twenty-four (24) months for violating their supervised release by murdering Shane Bell on March 16, 2011. Judge Barbier found by a preponderance of the evidence that WILLIAMS and CLAVO were the gunmen who shot and killed Bell in the 2300 block of St. Anthony Street earlier this year. The key witness, Aristotle Seals, provided federal agents and the New Orleans Police Department - Homicide Division with statements that identified WILLIAMS and CLAVO as the perpetrators of the March 16 murder. Federal agents and a New Orleans Police Department detective provided testimony to those statements and the identification Seals provided because Seals was a victim of a murder on May 18, 2011 at the corner of Allen and North Rocheblave streets. The original murder case involving Bell against WILLIAMS and CLAVO was pending in Orleans Parish Criminal District Court, but was refused on September 20, 2011 after the key witness in Bell's murder, Seals, was also murdered.
WILLIAMS and CLAVO were on federal probation for firearm violations at the time of Bell's murder. Under federal guidelines, twenty-four (24) months is the maximum time the two could receive for a violation of their federal probation. A federal supervised release hearing applies a preponderance of the evidence standard in determining if a probationer violated the conditions of his probation. Following considerable testimony, Judge Barbier found that WILLIAMS and CLAVO engaged in criminal activity involving murder, used a firearm and associated with known felons (each other).
This case was investigated by Special Agents of the Bureau of Alcohol, Tobacco, Firearms and Explosives, the Drug Enforcement Administration and New Orleans Police Department - Homicide Division.
The case was prosecuted by Assistant United States Attorney Abe McGull.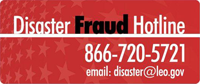 If you believe you have been a victim of fraud from a person or an organization soliciting relief funds on behalf of storm victims or have knowledge of waste, abuse, or allegations of mismanagement involving disaster relief operations, contact the National Center for Disaster Fraud toll free at: (866) 720-5721. You can also fax information to: (225) 334-4707 or e-mail it to: disaster@leo.gov