HAMMOND WOMAN SENTENCED FOR RECEIPT OF RED CROSS FUNDS AFTER HURRICANE KATRINA
January 12, 2012
LAFREDA WINSTON, age 54, a resident of Hammond, Louisiana, was sentenced by U. S. District Judge Lance Africk to fifteen (15) months incarceration and ordered to make full restitution for fraudulently obtaining an American Red Cross-issued Discover Debit/Credit Card containing $1,565.00 in ARC funds, announced U. S. Attorney Jim Letten. In addition to the term of imprisonment, Judge Africk ordered that WINSTON be placed on three (3) years of supervised release, during which time the defendant will be under federal supervision and risks an additional term of imprisonment should she violate any terms of her supervised release

WINSTON previously pled guilty on September 19, 2011, for stating in an application to the Red Cross on October 3, 2005, that she was eligible for ARC assistance when in truth she had already received the total amount available to her on September 17, 2005. Based on her fraudulent application of October 3, 2005, WINSTON obtained a ARC-issued Discover Debit/Credit Card containing $1,565.00 in ARC funds. WINSTON then used the Discover Card on October 4, 2005, to obtain property, goods, services, and money at a Kangaroo Express located in Hammond, Louisiana. The use of the Discover Credit Card caused certain signals, signs, writings, and sounds to be transmitted from the point of purchase in Hammond, Louisiana to the Discover Card network computers in Dallas, Texas, authorizing and allowing the defendant, WINSTON, to effect a purchase at the Kangaroo Express in Hammond, Louisiana.
The case was investigated by the Federal Bureau of Investigation. The case was prosecuted by Assistant United States Attorney Dorothy Manning Taylor.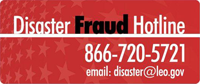 If you believe you have been a victim of fraud from a person or an organization soliciting relief funds on behalf of storm victims or have knowledge of waste, abuse, or allegations of mismanagement involving disaster relief operations, contact the National Center for Disaster Fraud toll free at: (866) 720-5721. You can also fax information to: (225) 334-4707 or e-mail it to: disaster@leo.gov