FORMER HBPA PRESIDENT SENTENCED TO
SERVE OVER THREE YEARS FOR CONSPIRACY TO COMMIT MAIL FRAUD, WIRE FRAUD, IDENTITY FRAUD AND HEALTH CARE FRAUD
February 02, 2012
SEAN DANIEL ALFORTISH, age 44, a resident of Kenner, Louisiana, was sentenced today to serve forty-six (46) month imprisonment by U. S. District Judge Eldon E. Fallon on his conviction for conspiracy to commit mail fraud, wire fraud, identity fraud and health care fraud, announced U. S. Attorney Jim Letten. In addition to the term of imprisonment, Judge Fallon imposed three (3) years of supervisory release following the term of imprisonment, during which time the defendant will be under federal supervision and risks an additional term of imprisonment should he violate any terms of his supervised release. ALFORTISH was also ordered to pay full restitution in the amount of $105,104.94.
ALFORTISH pleaded guilty to one count of conspiracy on August 31, 2011, five days before he had been scheduled for trial. According to facts admitted at the hearing on his guilty plea, ALFORTISH, an attorney and former magistrate judge, was first elected president of the Louisiana Horsemen's Benevolent and Protective Association (HBPA) in 2005. He was re-elected to a second term as president in 2008.
During ALFORTISH's first term of office, certain members of the Board of Directors of the HBPA challenged ALFORTISH's management of the finances of the organization and filed suit against ALFORTISH and the HBPA, seeking financial information about the organization. ALFORTISH admitted entering into a conspiracy to rig the March 2008 election. The goal was to re-elect ALFORTISH along with favored candidates for Board seats.
Only HBPA members were entitled to vote for the President and Board Members of the HBPA. In order for a ballot to be counted as valid, the ballot had to be enclosed in an envelope bearing the social security number of an HBPA member and had to be received by the HBPA's certified public accountant via the U.S. Postal Service. ALFORTISH admitted that co-conspirators mailed falsified election ballots through the U.S. Postal Service from states other than Louisiana, so they would bear postmarks appropriate to the residences of supposed "voters", who actually had no knowledge that the coconspirators had used their social security numbers without authorization to cast falsified ballots. The coconspirators also used interstate wires to make reservations and pay for interstate travel.
ALFORTISH also admitted that accounting records showed that funds of the Medical Benefit Trust were used to fund flowers, gifts and awards, travel, meals, entertainment, gas, and the cost of a national HBPA convention, although the funds of the Medical Benefit Trust were to be used only to pay medical and hospital claims, and the necessary administrative cost of providing the benefits. For example, in January 2008, the HBPA put on a national convention for HBPAs throughout the country and over $83,000 was spent to put on the convention and was paid for by the Medical Benefit Trust, although only one hour of instruction arguably related to health care benefits was presented. Ultimately, under ALFORTISH's leadership, approximately one-half of the expense of presenting the convention was allocated to the Medical Benefit Trust.

In a related case, Cindy McKean Romero, former HBPA State Farm and Field Director, was sentenced to three (3) years probation on September 22, 2012 by U. S. District Judge Lance M. Africk. Mona Hebert Romero, former HBPA Executive Director, is scheduled for sentencing on February 3 before Judge Eldon E. Fallon on her guilty plea to conspiracy to commit mail fraud, wire fraud and identity fraud. Both Cindy Romero and Mona Romero had agreed to cooperate with the government's prosecution had ALFORTISH elected to go to trial.
Roger Hilburn, Dallas Regional Director of the Department of Labor, Employee Benefits Security Administration said, " I hope this sends a clear message to all who sponsor or transact business with employee benefit plans that the federal government will aggressively pursue those who commit crimes against employees and retirees of private-sector pension and health plans."
"When the defendant in this case used the mail to commit fraud, he brought down the full investigative might of the Postal Inspection Service," said Inspector in Charge Gary Barksdale. "This sentence should send a strong message that we diligently protect the integrity and trust of the U.S. Mail."
The investigation was conducted by agents from the U. S. Postal Inspection Service and the U. S. Department of Labor, Employee Benefits Security Administration, Dallas Regional Office. The case was prosecuted by Assistant U. S. Attorneys Eileen Gleason, G. Dall Kammer, and Patrice Harris Sullivan.
.
.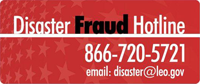 If you believe you have been a victim of fraud from a person or an organization soliciting relief funds on behalf of storm victims or have knowledge of waste, abuse, or allegations of mismanagement involving disaster relief operations, contact the National Center for Disaster Fraud toll free at: (866) 720-5721. You can also fax information to: (225) 334-4707 or e-mail it to: disaster@leo.gov