CORPORATION PLEADS GUILTY TO OCEAN DISCHARGE VIOLATIONS
February 13, 2012
PHILSYNERGY MARITIME, INC., headquartered in Muntinlupa City, Philippines, pled guilty last Thursday, February 9, 2012, before U.S. District Judge Kurt D. Engelhardt to violating the Act to Prevent Pollution from Ships (APPS), announced U. S. Attorney Jim Letten.
PHILSYNERGY MARITIME, INC. was charged on January 20, 2012, in a one count Bill of Information. PHILSYNERGY operated the M/V Golden Sakura, a 39,737 gross ton ocean-going bulk carrier cargo ship built in 2004 that was registered in Panama, and had an International Maritime Organization (IMO) number of 9374210. The vessel left China on June 11, 2011, and arrived at the Port of New Orleans on August 14, 2011, after port calls in Indonesia, Hong Kong and Panama. PHILSYNERGY admitted that from February 23, 2011 through August 15, 2011, engineering crews aboard the M/V Golden Sakura regularly discharged oily waste water containing more than 15 ppm of oil directly into oceans. The crew did not use the Oil Water Separator to determine if the water being discharged overboard contained less that 15 ppm. The Chief Engineer confessed to the Coast Guard that he used a flashlight to look at the discharge to determine if he saw a sheen on the water and only if he saw a sheen did he instruct the M/V Golden Sakura crew to use the OWS. As a consequence, the entries in the Oil Record Book regarding use of the Oil Water Separator were false. Therefore, the Oil Record Book that was presented the United States Coast Guard during inspection was false Oil Record Book in that all disposals of oil bilge water were not fully recorded.
This case was investigated criminally by the United States Coast Guard Criminal Investigative Services and the United States Environmental Protection Agency and was prosecuted by Assistant United States Attorney Dorothy Manning Taylor.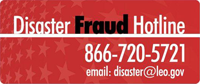 If you believe you have been a victim of fraud from a person or an organization soliciting relief funds on behalf of storm victims or have knowledge of waste, abuse, or allegations of mismanagement involving disaster relief operations, contact the National Center for Disaster Fraud toll free at: (866) 720-5721. You can also fax information to: (225) 334-4707 or e-mail it to: disaster@leo.gov