MAN CHARGED WITH FALSE STATEMENT TO DOI-OIG REGARDING BLOWOUT PREVENTER TESTING ON DRILLING RIG IN GULF
February 28, 2012
DONALD HUDSON, age 49, of Walnut Grove, Mississippi, was charged in a one count bill of information for making a false statement to a special agent with the Department of Interior-Office of Inspector General regarding the falsification of blowout preventer system testing and recording on a drilling rig in the Gulf of Mexico operated by Helmerich & Payne, Inc. ("H&P"), announced U. S. Attorney Jim Letten.
According to the bill of information, from on or about October 14, 2009 until on or about May 27, 2010, HUDSON was employed by H&P as the drilling rig manager on Rig 206 located on a federal mineral lease in the Gulf of Mexico in the territorial jurisdiction of Louisiana. Rig 206 was equipped with a safety device known as a blowout preventer system designed to ensure well control and prevent potential release of oil and gas and possible loss of well control. According to the Code of Federal Regulations, the blowout preventer system must be pressure tested at regular intervals, and the entire system must pass the pressure test prior to continuing drilling operations. The results of the pressure testing, including any problems or irregularities observed during the testing and the actions taken to remedy the problems, must be recorded.
HUDSON is alleged to have made a false statement to Department of Interior–OIG on March 30, 2011 when he denied directing others on Rig 206 to falsify blowout preventer testing and recording. The bill alleges that HUDSON did direct personnel on Rig 206 to falsify the testing and recording of the blowout preventer system by directing his crew to close valves on the choke manifold in order to bypass leaking valves. The choke manifold is a component of the blowout preventer system and consists of piping and valves designed to direct and control flow from the well during pressure spikes.
Jim Letten, United States Attorney for the Eastern District of Louisiana, noted that as a result of the investigation, in which the alleged falsification took place, no environmental or other harm occurred, and the blowout preventer system was ultimately repaired.
HUDSON faces a maximum term of imprisonment of five (5) years, a fine of $250,000.00 and three (3) years of supervised release following any term of imprisonment.
U. S. Attorney Letten reiterated that the bill of information is merely a charge and that the guilt of the defendant must be proven beyond a reasonable doubt.
The case is being investigated by Department of Interior–Office of Inspector General. The case is being prosecuted by Assistant United States Attorneys Dorothy Manning Taylor and Emily K. Greenfield.
(Download Indictment

)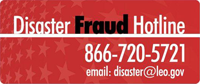 If you believe you have been a victim of fraud from a person or an organization soliciting relief funds on behalf of storm victims or have knowledge of waste, abuse, or allegations of mismanagement involving disaster relief operations, contact the National Center for Disaster Fraud toll free at: (866) 720-5721. You can also fax information to: (225) 334-4707 or e-mail it to: disaster@leo.gov