NEW ORLEANS WOMAN PLEADS GUILTY TO DEFRAUDING
GULF COAST CLAIMS FACILITY
March 07, 2012
ROKEISHA BARRIOS, age 32, a resident of New Orleans, Louisiana, pled guilty today before U. S. District Court Judge Sarah Vance to wire fraud in a one-count bill of information relating to a fraudulent application she made in her husband's name to the Gulf Coast Claims Facility (GCCF) for financial assistance during the aftermath of the Deepwater Horizon oil spill in the Gulf of Mexico, announced U. S. Attorney Jim Letten.
According to the bill of information and factual basis, BARRIOS admitted the GCCF made disaster assistance money available to individuals and businesses affected by the oil spill resulting from the Deepwater Horizon explosion on April 20, 2010. The GCCF required victims claiming to have suffered a loss due to the oil spill to submit a truthful application stating the reason for their loss due to the oil spill and verifying income losses. Documents would demonstrate that beginning in October 2010, the defendant submitted, electronically, an application to the GCCF in the name of her husband, Roberto Barrios, for emergency advance payments for business losses. The information in the application was false and fraudulent as to her husband's business as a commercial fisherman and as to his employment as a hotel employee before the Deepwater Horizon oil spill. As a result of this false and fraudulent application and documentation, she received, in a joint checking account, $22,600 in emergency advance payments on November 23, 2010. Further, she received a final GCCF claim payment in the amount of $11,307.50 on or about March 21, 2011. The defendant confessed to the crime.
BARRIOS faces a maximum term of imprisonment of twenty (20) years, a $250,0000 fine, full restitution to the Gulf Coast Claims Facility, three (3) years of supervised release following any imprisonment and $100 special assessment. Sentencing is scheduled for June 13, 2012 at 9:30 a.m.
The case was investigated by the Federal Bureau of Investigation.
The case was prosecuted by Assistant U. S. Attorney Marvin Opotowsky, Disaster Fraud Coordinator.
(Download Factual Basis

)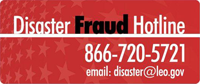 If you believe you have been a victim of fraud from a person or an organization soliciting relief funds on behalf of storm victims or have knowledge of waste, abuse, or allegations of mismanagement involving disaster relief operations, contact the National Center for Disaster Fraud toll free at: (866) 720-5721. You can also fax information to: (225) 334-4707 or e-mail it to: disaster@leo.gov