FEMA EMPLOYEE PLEADS GUILTY TO VIOLATING A CONFLICT OF INTEREST
May 02, 2012
ROBERT BLEVINS age 75, a resident of Ft. Pierce, Florida, plead guilty today to a superseding bill of information relative to a federal employee violating a conflict of interest, announced U.S. Attorney Jim Letten.
According to the superseding bill of information and factual basis, BLEVINS was an Accounting Property Officer (APO) and Contracting Officer's Technical Representative (COTR) employed by the Federal Emergency Management Agency (FEMA), an agency of the United States, during the relative times of 2004 through 2006. Before August 2005, BLEVINS was the supervisor of a travel trailer maintenance contract awarded to 3-D Disaster Services, Inc. and David Dangler. After Hurricane Katrina, BLEVINS, while still a FEMA federal employee, assisted David Dangler in the preparation of a FEMA contract proposal for a solicitation offer to maintain and deactivate FEMA trailers in Plaquemines Parish, Louisiana over a period of approximately four years involving an amount up to $100,000,000. Additionally, BLEVINS provided a past performance evaluation form based on his knowledge as a FEMA employee and COTR for 3-D Disaster Services, Inc. in the contract proposal. At the same time, David Dangler offered, for BLEVINS' consideration, a proposal for employment with a percentage interest in the contract if 3-D Disaster Services, Inc. was awarded the contract by FEMA. Subsequently, in March 2006, the $100,000,000 contract was awarded to 3-D Disaster Services, Inc. controlled by David Dangler. In April 2006, the defendant resigned his position as a FEMA federal employee and began employment with 3-D Disaster Services, Inc. and its joint venture partner in May 2006.
BLEVINS faces a maximum sentence of one (1) year in jail, a $100,000 fine, one (1) year term of supervised release following any term of imprisonment, along with a special assessment fee of $25. Sentencing is set for August 1, 2012 before U. S. Magistrate Judge Daniel E. Knowles, III.
This case was investigated by the Federal Bureau of Investigation and the Department of Homeland Security, Office of Inspector General, and was prosecuted by Assistant U. S. Attorney Marvin Opotowsky.

(Download Indictment

)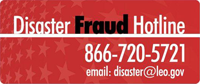 If you believe you have been a victim of fraud from a person or an organization soliciting relief funds on behalf of storm victims or have knowledge of waste, abuse, or allegations of mismanagement involving disaster relief operations, contact the National Center for Disaster Fraud toll free at: (866) 720-5721. You can also fax information to: (225) 334-4707 or e-mail it to: disaster@leo.gov