NEW ORLEANS MAN INDICTED FOR DISTRIBUTION OF COCAINE
May 15, 2012
The United States Court of Appeals for the Fifth Circuit on Friday, May 11, 2012, vacated a $1.45 million dollar tort judgment against the United States in a case his office defended at trial, announced U. S. Attorney Jim Letten.
Two Gulf Coast-based shipbuilders and designers, United States Marine, Inc. and VT Halter Marine, Inc., filed a complaint for damages against the United States seeking over $63 million in damages. The plaintiffs alleged that the United States Navy disclosed to a competitor their trade secret – the design for a high-speed military combat craft called the Mark V. As detailed in USMI's complaint, the Navy had retained VT Halter in 1993 to originally develop and design the Mark V. USMI claimed joint ownership over the Mark V design with VT Halter.
The United States filed a motion to dismiss the tort claims, arguing that the claims were based on contract terms governing the development and use of the boat design. The United States argued that only a specialized court in Washington, D.C.—the Court of Federal Claims—had jurisdiction to award consequential damages for a contract claim. The District Court denied the United States' motion, allowed the tort claims to proceed to trial, and awarded plaintiffs approximately $1.45 million dollars in tort damages.
On appeal, the Fifth Circuit adopted the arguments contained in the United States' original motion to dismiss. The Fifth Circuit found that plaintiffs' claims arose out of contract and not tort and, therefore, were within the exclusive jurisdiction of the Court of Federal Claims. The Fifth Circuit vacated the $1.45 million dollar judgment against the United States and ordered the entire matter transferred to the Court of Federal Claims.
Speaking on the recent developments U. S. Attorney Jim Letten stated:
"Defending federal agencies and components, like the Department of the Navy, in civil litigation is a critically important function of the United States Attorney's office in this district. It was our position from the beginning of this matter that claims involving complicated contracts for intellectual property belonged in the exclusive forum Congress created to adjudicate those claims. The Fifth Circuit's recent decision in this matter affirms the merit of our original argument."
This matter was handled at trial by Assistant United States Attorneys Brock Dupre and Peter Mansfield and on appeal by Department of Justice Appellate Attorney Mark Pennak.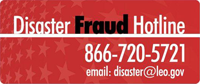 If you believe you have been a victim of fraud from a person or an organization soliciting relief funds on behalf of storm victims or have knowledge of waste, abuse, or allegations of mismanagement involving disaster relief operations, contact the National Center for Disaster Fraud toll free at: (866) 720-5721. You can also fax information to: (225) 334-4707 or e-mail it to: disaster@leo.gov