FORMER NEW ORLEANS TRAFFIC COURT DEPUTY CLERK, JAMES E. SINGLETON, PLEADS GUILTY
June 14, 2012
JAMES E. SINGLETON, age 45, a resident of New Orleans, Louisiana, pled guilty today to Theft as an Agent of an Organization Receiving Federal Funds, announced U. S. Attorney Jim Letten.
According to documents filed in federal court, in approximately 2008, SINGLETON was hired as a court employee for Orleans Parish Traffic Court, Section D, and he was later promoted to the position of Deputy Clerk for Traffic Court. As Deputy Clerk, SINGLETON was responsible for managing and/or supervising approximately thirty (30) subordinate Traffic Court employees.
SINGLETON stole thousands of dollars in cash from individuals who appeared at Traffic Court in an effort to resolve their outstanding traffic tickets. Specifically, in the year 2010, the FBI discovered that SINGLETON took at least $9,000.00 in cash from at least six different victims. In a voluntary interview with FBI agents, SINGLETON admitted that he received money from individuals to fix traffic tickets, that he did not "put" the money toward the fines and fees, and that he kept the money for personal use.
After SINGLETON took the unsuspecting victims' money, he would provide his victims with an official New Orleans Traffic Court document called a Reinstatement Letter. SINGLETON would instruct his victims to take the letter to the Louisiana Department of Public Safety, Driver's License Division so they could get their driving privileges reinstated. However, many of SINGLETON's victims' driving privileges were suspended without their knowledge since SINGLETON failed to clear their past citations. As a result, SINGLETON's actions placed his victims in jeopardy of arrest for driving on a suspended driver's license and having outstanding attachments for contempt of court.
Speaking of today's guilty plea, U. S. Attorney Jim Letten stated:

"Once again, our policy of zero tolerance for corruption has revealed abuses by a public official who preyed on citizens to enrich himself unjustly. In addition to using his position to steal from citizens, Singleton's conduct denied essential funds to New Orleans Traffic Court and to the City's Public Defender's Office which derives much-needed assistance from the funds which are legitimately collected.
Special thanks not only to our top-notched prosecution and investigation team from our office and the FBI, but also to the New Orleans Police Department for their able assistance."
On April 19, 2012, SINGLETON was arrested by Special Agents with the FBI. SINGLETON appeared before a U.S. Magistrate Judge on the following day and was released on a $10,000 personal surety bond along with pre-trial supervision. Today, Judge Fallon allowed SINGLETON to continue on pre-trial supervision and to remain under the same terms and conditions of his $10,000 bond as previously set by the U. S. Magistrate.
SINGLETON faces a maximum term of imprisonment of ten (10) years, a fine of $250,000.00 and three (3) years of supervised release following any term of imprisonment. Sentencing is scheduled for September 13, 2012.

The case was investigated by the Federal Bureau of Investigation and the New Orleans Police Department and is being prosecuted by Assistant United States Attorney Brian M. Klebba.
(Download Factual Basis

)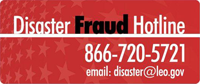 If you believe you have been a victim of fraud from a person or an organization soliciting relief funds on behalf of storm victims or have knowledge of waste, abuse, or allegations of mismanagement involving disaster relief operations, contact the National Center for Disaster Fraud toll free at: (866) 720-5721. You can also fax information to: (225) 334-4707 or e-mail it to: disaster@leo.gov