SLIDELL COUPLE INDICTED FOR WIRE FRAUD AND FALSE STATEMENTS ON FEDERAL TAX RETURNS
June 20, 2012
NORMAN DUCRE, age 40, and JAMI DUCRE, age 43, married residents of Slidell, Louisiana, were charged last Friday in a three-count indictment for wire fraud and false tax returns, announced United States Attorney Jim Letten announced.
The indictment alleged that NORMAN DUCRE and JAMI DUCRE owned and operated
J & J Auto Brokers, LLC, a used car dealership in Slidell, Louisiana. For the tax year 2006, the indictment alleges, NORMAN DUCRE and JAMI DUCRE devised a scheme and artifice to defraud the State of Louisiana out of lawful taxes on income received. JAMI DUCRE would furnish false and fraudulent monthly income and expense reports to the tax preparer and NORMAN DUCRE on a routine basis would fail to report cash sales made by J & J Auto Brokers, LLC. For the tax year 2006, the DUCREs failed to report approximately $200,000 of income from J & J Auto Brokers, LLC on their state tax return that year. They used the interstate wire system to file the Louisiana return.

The indictment further accuses the DUCREs of making false statements on both their 2005 and 2006 federal income tax returns by failing to include nearly $200,000 per year in cash sales on their returns in 2005 and 2006.
If convicted of the wire fraud count, the DUCREs face twenty (20) years incarceration, a $250,000 fine and restitution to the State of Louisiana. On each of the tax counts, the DUCREs face a maximum of three (3) years incarceration, restitution to the Internal Revenue Service and cost of the investigation. A three (3) year period of supervised release could also be imposed.
United States Attorney Letten reiterated that an indictment simply is a charge and that the guilt of the defendants must be proven beyond a reasonable doubt.
The case was investigated by the Criminal Investigation Division of the Internal Revenue Service and is being prosecuted by Assistant United States Attorney Carter K. D. Guice, Jr. of the Financial and Computer Crimes Unit.
(Download Indictment

)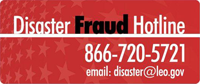 If you believe you have been a victim of fraud from a person or an organization soliciting relief funds on behalf of storm victims or have knowledge of waste, abuse, or allegations of mismanagement involving disaster relief operations, contact the National Center for Disaster Fraud toll free at: (866) 720-5721. You can also fax information to: (225) 334-4707 or e-mail it to: disaster@leo.gov