JIHAD HATEM HAMAD ARRESTED FOR CONSPIRACY TO USE TELEPHONE CALLS TO PROMOTE UNLAWFUL ACTIVITY, PUBLIC BRIBERY
June 25, 2012
JIHAD HATEM HAMAD, age 26, a resident of Gretna, Louisiana, was recently charged by criminal complaint in the Eastern District of Louisiana with conspiracy to use a facility of interstate commerce, namely a telephone, to promote an unlawful activity, the State crime of public bribery, announced U.S. Attorney Jim Letten.
According to the complaint and arrest warrant issued by the Court on June 22, 2012, in March 2012, the Federal Bureau of Investigation received a complaint from Harahan Police Chief Jacob "Mac" Dickinson that the defendant had approached him and requested support for his application for a liquor license for the defendant's business, Harahan Cheap Smokes. Defendant told Dickinson that another wealthy individual would be willing to make a campaign contribution if Dickinson supported defendant's application for a liquor license. Subsequently, Dickinson, working with the FBI, met on several occasions with the other individual and without that individual's knowledge, made covert recordings. The other individual ultimately paid Dickinson, acting in his capacity as a cooperating witness, $3,000 in exchange for Dickinson not objecting to the issuance of a liquor license to defendant's business, and for arranging to have the defendant's application for a license placed on the agenda of the Harahan City Council. On June 21, defendant participated in a conversation with Dickinson and the other individual, which was covertly recorded.
The defendant was taken into custody on Friday, June 22, at his place of business, Harahan Cheap Smokes, and is to appear before a United States Magistrate Judge on Monday, June 25 at 2:00 p.m.
If convicted, HAMAD faces a maximum term of five (5) years imprisonment and a $250,000 fine.

In announcing the arrest, U.S. Attorney Letten acknowledged the cooperation of Chief Dickinson in first reporting the matter, and then in acting as a cooperating witness in meeting with the subjects and covertly recording those meetings. Letten stated that the investigation is ongoing.
The case is being investigated jointly by the Federal Bureau of Investigation and the Harahan Police Department. Prosecution is being handled by Assistant United States Attorney Eileen Gleason.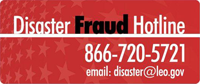 If you believe you have been a victim of fraud from a person or an organization soliciting relief funds on behalf of storm victims or have knowledge of waste, abuse, or allegations of mismanagement involving disaster relief operations, contact the National Center for Disaster Fraud toll free at: (866) 720-5721. You can also fax information to: (225) 334-4707 or e-mail it to: disaster@leo.gov