FORMER CHIEF FINANCIAL OFFICER, KELLEY WILLIAMS, GUILTY OF DEFRAUDING NON-PROFIT FOR DISABLED
July 25, 2012
KELLEY WILLIAMS, age 38, a resident of Terrytown, Louisiana, pled guilty to forgery in federal court today before United States District Court Judge Martin L.C. Feldman, announced U. S. Attorney Jim Letten.

According to court documents, KELLEY WILLIAMS, was employed by Non-Profit Corporation "A" as the Chief Financial Officer, from 2004 until January 26, 2011. Non-Profit Corporation "A" is recognized by the Internal Revenue Service as a 501(c)(3) corporation that provides services to people with developmental disabilities. The services include providing independent living at lower than market rates, personal care attendants, transportation, social opportunities, education, and training, for those with developmental disabilities. WILLIAMS's responsibilities included reconciling bank and financial statements for Non-Profit Corporation "A," entering financial information into business accounting software, and logging hours worked by personal care attendants. WILLIAMS did not have authority to sign checks in her own name or in that of anyone else, without permission.
From February 2004 until January 26, 2011, the defendant, WILLIAMS, knowingly possessed forged checks of Non-Profit Corporation "A" drawn on a Whitney Bank account, in varying amounts, with the intent to deceive another person and organization. The forgeries were accomplished when the defendant made checks payable to herself or others, without authorization, then forged the name of the president and director of Non-Profit Corporation "A" onto the checks, indicating that this person was the drawer of the checks. WILLIAMS would then deposit the checks into her personal Capital One or J.P. Morgan Chase bank accounts. As a result, Capital One and J.P. Morgan Chase Bank were ultimately deceived as to the legitimacy of the forged checks.
Court documents state that WILLIAMS would then log into computer accounting software in order to disguise the actual payee, and replace it with a different name that would give the appearance of an actual expense. Once WILLIAMS received the bank statements the following month, she would cut out her name as payee, replace it with another payee to match the one listed in the computer accounting software, make a copy, and place what appeared to be the actual cancelled check, into the monthly bank statement. One particular check was forged on December 3, 2010. The actual payee was listed as WILLIAMS, but the computer software and cancelled checks were altered to give the appearance that the payee was actually a company that provides office products and supplies. The check was drawn on the Whitney Bank account of Non-Profit Corporation "A," in the amount of $724.97. WILLIAMS then deposited those funds into her own Capital One account. Court records indicate that WILLIAMS embezzled a total of approximately $245,386.60.
WILLIAMS faces a maximum term of imprisonment of ten (10) years, as well as a fine of $250,000.00 and three (3) years of supervised release following any term of imprisonment. Sentencing is set for November 7, 2012, at 1:30pm.
The case was investigated by the Special Agents of the Federal Bureau of Investigation and the prosecution is being handled by Assistant United States Attorney Jon Maestri.
(Download Factual Basis

)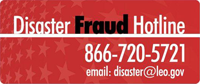 If you believe you have been a victim of fraud from a person or an organization soliciting relief funds on behalf of storm victims or have knowledge of waste, abuse, or allegations of mismanagement involving disaster relief operations, contact the National Center for Disaster Fraud toll free at: (866) 720-5721. You can also fax information to: (225) 334-4707 or e-mail it to: disaster@leo.gov