Donald J. Cazayoux, Jr.
United States Attorney
Donald Cazayoux Jr. is the United States Attorney for the Middle District of Louisiana. His commission to serve as the United States Attorney for the Middle District was signed by President Barack Obama and he was sworn in as United States Attorney for the Middle District of Louisiana on June 6th, 2010. As United States Attorney, Mr. Cazayoux manages a staff of more than 45 federal and contract employees.
Mr. Cazayoux is committed to carrying out the mission of the United States Department of Justice including protecting Americans from terrorism and threats to national security, both foreign and domestic; combating violent crime; fighting financial fraud and protecting the country's vulnerable populations – children, the elderly, hate crime victims, and victims of human trafficking and exploitation. In doing so, Don brings his years of experience as a prosecutor promoting safety for children and families in the State of Louisiana to the federal level for the Department of Justice.
During his second year as United States Attorney, Don second-chaired a gun trial. In his words, "It was a great way for me to experience firsthand the commitment to justice shared by everyone involved in the federal system. The dedication and professionalism of my lead prosecutor and agents were indicative of the experience I have had with our federal agencies and prosecutors over my past year as U.S. Attorney. It is gratifying to be a part of the Department of Justice and to participate in the quiet, steadfast pursuit of justice."
Donald J. Cazayoux, Jr. is a native of New Roads, Louisiana. He and his wife, Cherie, have three children. Upon graduation from Pointe Coupee High School, he earned his B.S. and M.A. from Louisiana State University and his J.D. from Georgetown University Law School in 1991. He practiced law with the Baton Rouge office of Chaffe, McCall until 1994, when he returned to New Roads to serve as an assistant district attorney for the 18th Judicial District. He was elected to the Louisiana House of Representatives from the 18th district in 1999 where he served until 2008. He was elected to the U.S. House of Representatives, Louisiana's 6th district, and served in Congress until January 2009. He was sworn in as the United States Attorney for the Middle District of Louisiana on June 25, 2010. USA Cazayoux is also the Executive Director of the National Center for Disaster Fraud ("NCDF"), formerly the Hurricane Katrina Fraud Command Center, located in Baton Rouge, Louisiana. The NCDF is the central point for the receipt and processing of disaster fraud-related complaints nationwide.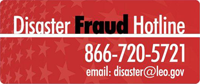 If you have knowledge of fraud, waste, abuse, or allegations of mismanagement involving disaster relief operations, contact the National Center for Disaster Fraud toll free at: (866) 720-5721 or e-mail at: disaster@leo.gov