The U.S. Attorney's Office in the District of Massachusetts has committed a full time prosecutor and Program Assistant to support the District's child sexual exploitation enforcement. Because of the vast number of child exploitation matters, other federal prosecutors in our Boston, Worcester and Springfield divisions are also trained to handle these sensitive and often emotionally challenging cases.
Federal Enforcement
The Department of Justice (DOJ) has developed and/or supported federal, state and local initiatives that combat child exploitation. In U.S. Attorney's Offices, Project Safe Childhood (PSC) is the initiative that targets federal enforcement and outreach efforts.
PROJECT SAFE CHILDHOOD (PSC)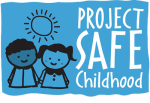 In May 2006 in response to the increased dangers associated with the use of the Internet, DOJ launched Project Safe Childhood to combat child exploitation crimes. Through Project Safe Childhood, DOJ and U.S. Attorney's Offices across the country have formed collaborative partnerships with federal, state and local law enforcement officials to protect the children of this nation. These partnerships strive to investigate and prosecute those that exploit children.
State and Local Enforcement
The District of Massachusetts is dedicated to working with and assisting those who focus their efforts on investigations involving sexual exploitation of children. DOJ recognizes the unique challenges associated with these cases, particularly at the state and local level. In an effort to assist state and local law enforcement in their mission to protect children in the Commonwealth, DOJ has provided federal grant funds to enhance their capabilities. The following are a few DOJ funded initiatives:
ADDITIONAL INFORMATION AND LINKS

Texting While Driving

Cyberbullying

Sexting

Internet Safety


Sex Offenders