Project Safe Neighborhoods
Project Safe Neighborhoods. (PSN) is a national program initiated by the federal government to prosecute repeat violent offenders who possess guns. PSN in the Western District of Michigan has been developed and is being implemented by a Task Force in partnership with the United States Attorney's Office. State, tribal, local and federal law enforcement and community representatives are Task Force members.
Project Safe Neighborhoods (PSN) is an unprecedented partnership between all levels of government to implement a national strategy to attack gun crime with focus and intensity. While national in scope, each community's PSN task force is working to design and implement a local approach to combat the unique criminal circumstances that the area faces. PSN relies on a seamless network of law enforcement professionals who utilize a strategy of cooperation and coordination to prevent illegal gun use, as well as punishing violators and putting criminals who use guns behind bars. Prosecutors pursue the strongest possible punishment for those who violate firearms statutes. Community partners aggressively educate their constituents, such as youths in at-risk areas, about the consequence of illegal gun violence through services and resources provided by PSN. For further information on PSN, see http://www.psn.gov/.

Nationwide Statistics: Since it's inception, federal gun crime prosecutions have increased by 73% nationwide and the crime rate is at its lowest level in three decades, with violent crime incidents involving a firearm being down more than one-third since 2000, prior to when PSN began.
Local Statistics. Prosecution of gun cases in the Western District of Michigan comprise just under 20 percent of all cases prosecuted within the office. Since its inception within the District, defendants have received an average sentence of 66 months imprisonment for their gun crimes. Of the adjudicated cases handled through the District, just 11 percent have requested a trial, resulting in guilty verdicts and successful prosecutions in 90 percent of these cases.

Task Force Members. The following persons are task force members within the Western District of Michigan:

Patrick A. Miles, United States Attorney
John C. Bruha, Assistant United States Attorney, PSN / Anti-Gang Coordinator
Ellen M. Farrar, PSN Support, United States Attorney's Office
Teresa Szymanski, Lansing Chief of Police
Denise R. Allsberry, Probation Manager, Michigan Department of Corrections
Kevin Belk, Grand Rapids Chief of Police
Stuart J. Dunnings, III, Ingham County Prosecutor
Jeffrey R. Fink, Kalamazoo County Prosecutor
Victor A. Fitz, Cass County Prosecutor
Ronald J. Frantz, Ottawa County Prosecutor
Thomas C. Cameron, Chief of Criminal Justice Bureau Michigan Attorney General's Office
Brett H. Gardner, Chief Assistant Prosecutor Muskegon County
Barry Getzen, Major Michigan State Police
Sonja Everett - Resident Agent in Charge, Bureau of Alcohol, Tobacco, Firearms & Explosives
Susan Mladenoff, Calhoun County Prosecutor
Jackie Hampton, Battle Creek Chief of Police
Kaye Hooker, Law Enforcement Coordinator, United States Attorney's Office
Jeffrey Lewis, Director of Public Safety, City of Muskegon
Michael Martin, Director of Public Safety, Little River Band of Ottawa Indians
Valerie Martin, Chief U.S. Probation Officer
Brian A. Peppler, Chippewa County Prosecuting Attorney
James Petschke, Special Agent, Bureau of Alcohol, Tobacco, Firearms & Explosives
Jeff Hadley, Kalamazoo Chief of Public Safety
Milton Agay, Chief of Police, Berrien Springs Oronoko Township

Training: All of the training and technical assistance listed at the following link is available to the West Michigan PSN Task Force at no cost. If you would like to request training or technical assistance, please coordinate with the district's PSN Coordinator, who is responsible for submitting these requests to our national training and technical assistance team. http://www.psn.gov/training/Training.aspx
Contacts. Additional information is available through the Project Safe Neighborhoods Coordinator Support, Ellen M. Farrar at (616) 456-2404, Ellen.Farrar@usdoj.gov.
Media Materials: Including Radio and Television -: https://www.bja.gov/programdetails.aspx?program_id=74
PSN Radio & TV Spots. https://www.bja.gov/Programs/PSN/PSA/national/TV.html
Gun Posters.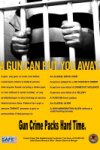 Click on these posters to view full size image.

Images may be downloaded once full size image is in view.