NEWS RELEASE
OFFICE OF THE UNITED STATES ATTORNEY
xxxxxxxxxxxxxxWESTERN DISTRICT OF MISSOURI
JOHN F. WOOD
Contact Dan Nelson, Executive AUSA ● (816) 426-4125 ● 400 East Ninth Street, Room 5510 ● Kansas City, MO 64106
www.usdoj.gov/usao/mow/index.html
SEPTEMBER 15, 2008
FOR IMMEDIATE RELEASE
U.S. ATTORNEY ANNOUNCES GUILTY PLEAS BY TWO FORMER TOP EXECUTIVES OF THE
AMERICAN ITALIAN PASTA COMPANY FOR CONSPIRACY TO FRAUDULENTLY
OVERSTATE EARNINGS AND DECEIVE INVESTORS
Former Chief Executive Officer and Chief Financial Officer Plead Guilty to Felonies;
Company Enters Into $7.5 Million Agreement with U.S. Attorney's Office
KANSAS CITY, MO –John F. Wood, United States Attorney for the Western District of Missouri, Monte C. Strait, Special Agent in Charge of the Kansas City Field Office of the Federal Bureau of Investigation (FBI), and Mark Fox, Acting Resident Agent in Charge of the Kansas City Resident Office of U.S. Immigration and Customs Enforcement (ICE) announced today that Timothy S. Webster, the former President and CEO of American Italian Pasta Co. (AIPC), and Warren B. Schmidgall, AIPC's former CFO, each pleaded guilty this morning to one count of conspiracy to commit wire fraud. U.S. Attorney Wood also announced that his office has reached an agreement with AIPC in which the company agreed to pay a fine of $7.5 million for the conduct of its former management. At the same time, Donald M. Hoerl, Acting Regional Director of the Denver Regional Office of the Securities and Exchange Commission (SEC), announced that the SEC filed civil actions in federal court this morning against AIPC and several of its former senior officers for engaging in a fraudulent accounting scheme to artificially increase the company's stock price and mislead investors.
Today's guilty pleas and the U.S. Attorney's agreement with AIPC are the culmination of a lengthy investigation into accounting and other improprieties at AIPC. The investigation was conducted by the United States Attorney's Office, the Federal Bureau of Investigation (FBI), and U.S. Immigration and Customs Enforcement (ICE). The investigation focused on allegations of wide-ranging accounting fraud at AIPC that adversely and materially affected its stock price and financial statements for Fiscal Years 2002 through 2004, and alleged material misrepresentations made by AIPC to the United States Department of Commerce in connection with its antidumping program.
"These guilty pleas should send a clear message that no one is above the law," said U.S. Attorney John F. Wood. "Corporate executives have to play by the rules just like everyone else. When they break the law, they will be prosecuted," Wood said. Wood noted that this case is the largest corporate fraud prosecution in the history of the Western District of Missouri. "This is a complex case that involved dozens of witnesses and nearly a million documents. Today's announcement is the result of tireless efforts by a large group of prosecutors and agents. These guilty pleas demonstrate that corporate fraud will be prosecuted every bit as vigorously in Kansas City as it is New York, Chicago, and elsewhere."
Wood emphasized that the conduct at issue was committed by the former management of AIPC and did not involve any current employees. "The company has taken important steps to ensure that the wrongdoing does not occur again," said Wood. "The fraud committed by former management does not in any way reflect upon the current management of the company or the many hard-working men and women at the company who had no involvement in the fraud. That is why we chose to resolve this matter without indicting the company. This $7.5 million fine strikes the right balance by appropriately punishing the company for its past wrongdoing without unnecessarily punishing the many employees and investors who were not involved in the fraud. The agreement also includes important measures to ensure that the fraud does not recur."
Special Agent in Charge Monte C. Strait said that "in today's economy, white collar crime affects us all, especially where millions of dollars are involved. This case demonstrates that the FBI remains committed to protecting the public's interest by investigating and bringing to justice those who use their inside positions of trust and confidence as a means to commit corporate fraud."
American Italian Pasta Company (AIPC) and its Conduct
AIPC is the largest producer of dry pasta in North America. It is a publicly-held corporation with its headquarters in Kansas City, Missouri. AIPC employs more than 600 people and maintains facilities in Excelsior Springs, Missouri; Columbia, South Carolina; Tolleson, Arizona and Verolanuova, Italy. AIPC's stock is traded on the over the counter market (Pink Sheets: AITP). At the time of Webster and Schmidgall's conspiracy, AIPC's stock traded on the New York Stock Exchange (NYSE: PLB), but it was delisted in April 2007.
As explained in today's court filings, AIPC pursued a strategy of fueling its growth with acquisitions of branded pasta and increased production capacity by building new manufacturing plants and lines. AIPC issued financial information and projected upcoming earnings to Wall Street and the investing public. AIPC's earnings eventually fell short of projections, at least in part because of the popularity of low carbohydrate diets. When this occurred, Webster and Schmidgall engaged in a conspiracy to fraudulently inflate the earnings AIPC reported to the SEC and to investors in order to conceal the true financial condition of AIPC. Specifically, from May 2002 to December 2004, Webster, Schmidgall, and others took steps to ensure that reported earnings for each quarter closely matched the earnings predicted by Wall Street securities analysts, in order to avoid a decline in the price of AIPC stock. When quarterly earnings fell short of earnings targets, Webster, Schmidgall, and others increased earnings reports so AIPC would meet or exceed the earnings targets. These adjustments were not supported by facts.
As described in the U.S. Attorney's Office's agreement with the company, the accounting improprieties under the former management of the company included, but were not limited to, treating millions of dollars of operating expenses of the company as if they were capital investments, overstating inventory, booking receivables that the company knew it would not receive, and engaging in certain "round-trip" financial transactions that lacked economic substance but were designed to create the appearance of earnings. In addition, AIPC made false statements to the U.S. Department of Commerce regarding the price of the pasta that AIPC imported into the United States in order to avoid adverse consequences regarding tariffs that AIPC paid under an antidumping program.
On June 16, 2008, AIPC issued revised financial statements for Fiscal Years 2001-2004. In total, AIPC reduced its net income for those years by $52,474,000. The chart below illustrates the revisions to net income for each year. Some of the revisions were to correct fraudulent accounting practices, but it is not necessarily the case that all of the inaccuracies resulted from fraud.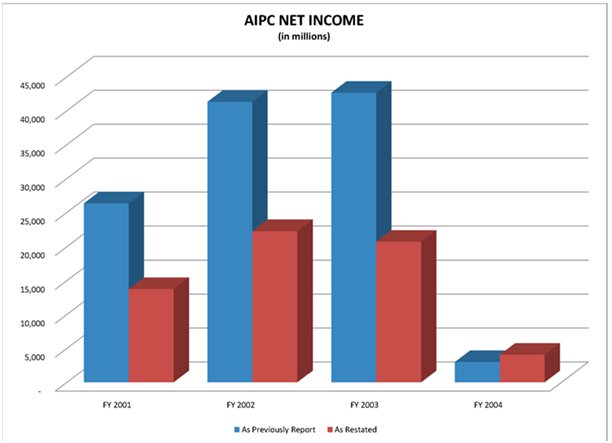 SOURCE: AIPC Restated Financials Filed with the SEC
Guilty Pleas of Timothy S. Webster & Warren B. Schmidgall
This morning, Webster and Schmidgall waived their right to an indictment and pleaded guilty to separate felony informations. Webster pleaded guilty before the Hon. David G. Kays of the United States District Court for the Western District of Missouri. Schmidgall pleaded guilty before the Hon. H. Dean Whipple, also of the United States District Court for the Western District of Missouri.
Pursuant to their respective plea agreements and informations, Webster and Schmidgall admitted to conspiring with each other and other members of AIPC's management to engage in various fraudulent accounting practices to deprive holders of AIPC stock of the intangible right to their honest services by concealing AIPC's true financial condition. Webster and Schmidgall admitted to the following conduct:
·    Submitting materially false reports on AIPC's financial condition to the SEC;
·    Fraudulently adjusting accounting entries in order to meet or exceed Wall Street's earnings expectations between approximately May 2002 and December 2004;
·    Structuring round-trip cash transactions with a company AIPC acquired to give the false impression that the company being acquired reimbursed AIPC more than $2 million of costs, so that AIPC's earnings for Fiscal Years 2003 and 2004 would appear higher;
·     Structuring round-trip cash transactions with a customer to give the false impression that the customer had agreed to retroactive price increases, which allowed AIPC to overstate revenue; and
·    Understating research and developments costs by approximately $1 million between October 2003 and May 2004.
AIPC's Agreement with the U.S. Attorney's Office
In the agreement executed today between the United States Attorney and AIPC, AIPC accepted responsibility for the conduct of certain former officers, executives and employees. AIPC acknowledged that the company filed multiple materially false and misleading financial reports with the SEC, and acknowledged that the company made other materially false statements in connection with the Department of Commerce's antidumping program. In addition, AIPC agreed to pay a fine of $7.5 million and continue its cooperation with the Department of Justice and other government agencies over the two-year period of the agreement.
AIPC further agreed to continue its efforts to redeem the errors and crimes of its former executives and employees and to continue its implementation of numerous remedial steps to ensure that the fraud at AIPC does not recur. These remedial steps include, but are not limited to: replacing the senior management and other employees who were involved in wrongdoing; creating the new positions of General Counsel, Chief Compliance Officer, and Director of Internal Audit; establishing an independent Board of Directors, including an independent chairman; overhauling its financial controls and procedures; enhancing its corporate governance and ethics practices by revising policies, initiating training and adding a whistleblower hotline; and issuing revised, corrected financial statements and becoming current with all of its annual SEC reporting requirements.
In light of AIPC's acceptance of responsibility, continued cooperation, remedial measures, and agreement to pay a $7.5 million fine, the United States Attorney's Office agreed not to prosecute the company. However, should AIPC violate the terms of the agreement executed today, or commit any other crimes, it will be subject to prosecution, including prosecution for the fraud that is the subject of the agreement.
These cases were prosecuted by U.S. Attorney John F. Wood and Assistant U.S. Attorneys Gene Porter, Jess Michaelsen, Daniel Nelson, Matt Hiller, Brian Casey, and Beth Phillips. These cases were investigated by the Federal Bureau of Investigation, Financial Analyst Scott Hamann of the U.S. Attorney's Office, and U.S. Immigration and Customs Enforcement.
The SEC's civil actions and settlements are described in a separate press release because SEC's civil investigation and the Department of Justice's criminal investigation were separate investigations. Wood praised the SEC's investigation as "truly exceptional work to protect the investing public."
****************
This news release, as well as additional information about the office of the United States Attorney for the Western District of Missouri, is available on-line at www.usdoj.gov/usao/mow/index.html
MEDIA CONTACT
Daniel M. Nelson
Executive Assistant United States Attorney
Western District of Missouri
400 E. Ninth St., 5th Floor
Kansas City, Missouri 64106
816-426-4125 (W)
816-288-1996 (M)
816-426-4210 (F)