June 20th, 2013
On June 20th and 21st the District of Montana U.S. Attorney's Office, represented by federal prosecutor Laura Weiss, led two days of training in Wolf Point, Montana, about new federal strangulation and suffocation felony charges enforceable in Indian Country. These new charges are enforceable as a result of the 2013 Violence Against Women Reauthorization Act. The trainings were attended by over 30 people representing ten different agencies in the Fort Peck area, including Fort Peck Criminal Investigators & Prosecutors, victim services personnel, Poplar and Wolf Point police departments, Fort Peck Family Violence Resource Center, the Montana Highway Patrol, Roosevelt County Sheriff's Office, medical professionals, and the FBI.
Training topics included best strategies for investigating a strangulation case, which is now a federal felony carrying a potential ten-years of imprisonment, $250,000 fine and three years of supervised release. Other topics included evidence collection, documentation of injuries, and working with victims.  The trainings also covered new offenses for suffocation and stalking in Indian Country.
"This new statute adds a much-needed tool in our tool box to combat destructive domestic violence on Indian reservations in Montana. Our office is prepared to take these cases when they arise and hold violent offenders accountable," said Montana U.S. Attorney Michael W. Cotter.  "These trainings provide a valuable venue for our busy law enforcement partners to come together and talk about how best to investigate and prosecute these crimes," said Cotter. "We are resolute in our commitment to making life in Indian Country safe for victims and the communities they live in."
The U.S. Attorney's Office is planning similar trainings throughout Montana's other reservations in the coming year.
---
June 18th, 2013
(from left to right) Lindsay Love of Planned Parenthood engages Sarah Rossi of the Montana Coalition Against Sexual and Domestic Violence, Jennifer Hill-Hart of Montana Legal Services, Michael Rankin of the USAO, and SANE Nurse Jennifer Small on the topic of best practices for medical care providers of sexual assault.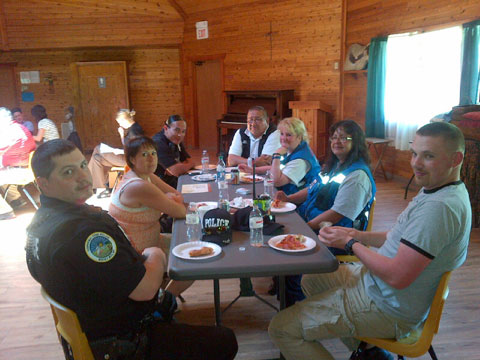 (from left to right) Officer Sean Richardson, SANE Nurse Jennifer Small, Officer James Red Tomahawk, Criminal Investigator Ed Longknife, EMT Bonnie Longknife, EMT Crissa Oliva, and Officer George Belcourt III, enjoy a lunch break during a SART training.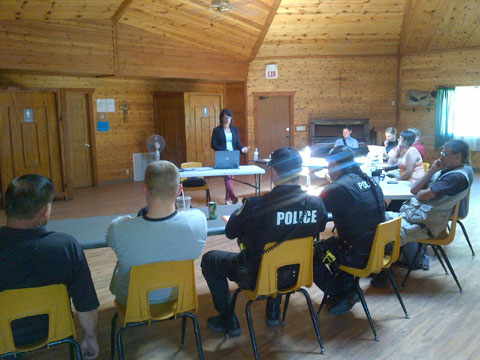 Montana Legal Services Attorney Jennifer Hill-Hart instructs on the role of a civil lawyer in sexual assaults.
The USAO, along with collaborative partners including the Montana Coalition Against Sexual and Domestic Violence, Montana Legal Services, the FBI, Chippewa Cree Children Exposed to Violence, Indian Health Services, and Chippewa Cree Tribal Law Enforcement, convened for a full day Sexual Assault Response Team (SART) Training on The Rocky Boy's Indian Reservation on June 18, 2013.  Over 30 professionals convened for the training.
---
May 17th, 2013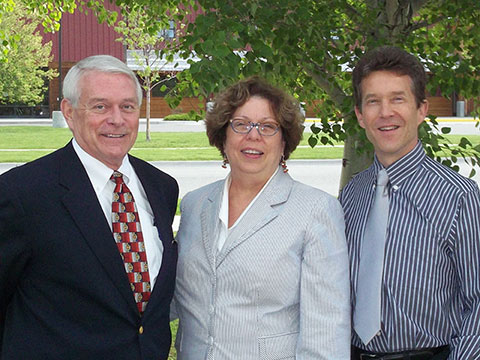 (from left to right) U.S. Attorney Michael Cotter (USAO – District of Montana, Tricia Tingle (Associate Director of Office of Justice Services -- BIA), and Matthew Dale (Director, Office of Consumer Protection and Victim Assistance -- Montana Attorney General's Department of Justice). Officials from USAO, BIA, and Montana Department of Justice kick off the tribal court training.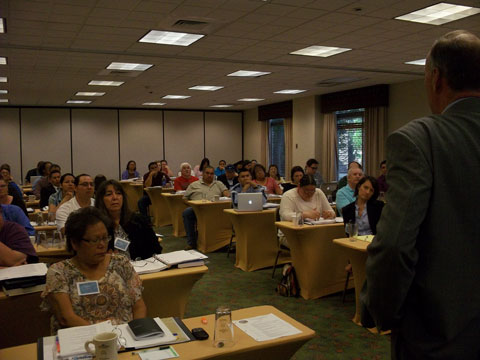 John Rhodes (Montana's Federal Defender's Office) instructing on the Rules of Evidence
(from left to right) John Rhodes (Montana's Federal Defender's Office) and Tribal Prosecutor Carl Pepion comparing notes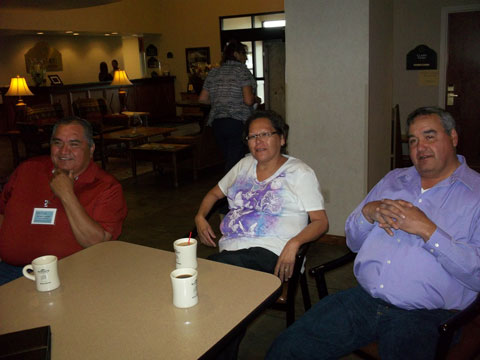 (from left to right) Chief Judge Jackson (Fort Peck Tribes), Chief Judge Yarlott (Crow Tribe), and Tribal Prosecutor Carl Pepion (Blackfeet) enjoying a well deserved coffee break
The Department of Interior Bureau of Indian Affairs, the United States Attorney's Office for the District of Montana, Montana's Attorney General's Office, DOJ-Access to Justice Initiative, Montana School of Law and the United States Federal Public Defender's Office conducted a comprehensive tribal court training for tribal court personnel on May 14 to 16, in Missoula, Montana. Among the topics covered, the training included training on implementation of the newly passed Violence Against Women Act (VAWA). Over 50 participants throughout Montana, Wyoming, and the Pacific Northwest attended.
---
April 11th, 2013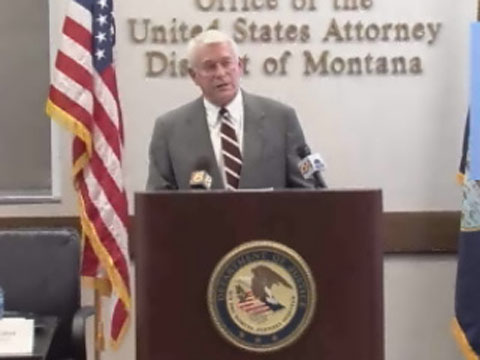 At a recent press conference, USA Cotter announced a successful Operation BAC (Billings Area Criminals) operation in which over 20 criminals were caught and convicted.
READ THE FULL STORY AND WATCH THE VIDEO
---
April 1st, 2013
Criminal Chief Kris McLean teaching environmental enforcement to the Crow tribe.
---
March 28th, 2013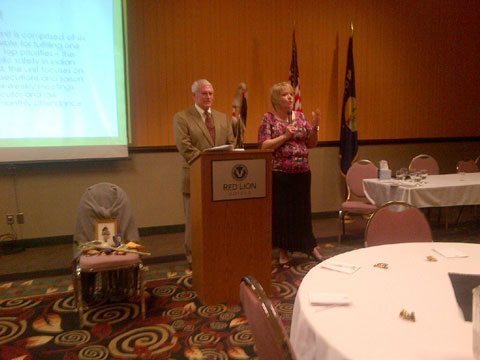 USA Michael Cotter and Victim Witness Specialist Rhonda Myron present to the Montana Native Women's Coalition Tribal Listening Session
---
March 27th, 2013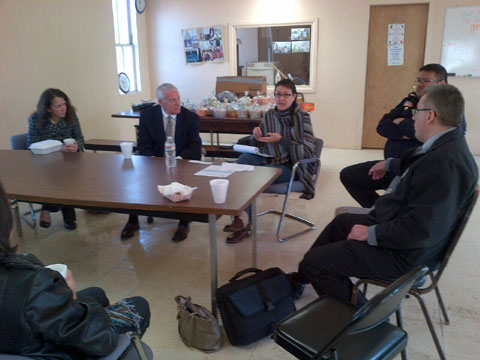 Deputy Criminal Chief Lori Suek;  USA Michael Cotter; Executive Director Lucy Simpson, National Indigenous Women's Resource Center; Chief of Police Donavon Wind, Northern Cheyenne; and William LeCompte, Assistant Supervisor Agent in Charge, BIA.  USAO meets with tribal partners at Dull Knife College on the Northern Cheyenne Indian Reservation to discuss Violence Against Women Act implementation in Indian Country..
---
March 27th, 2013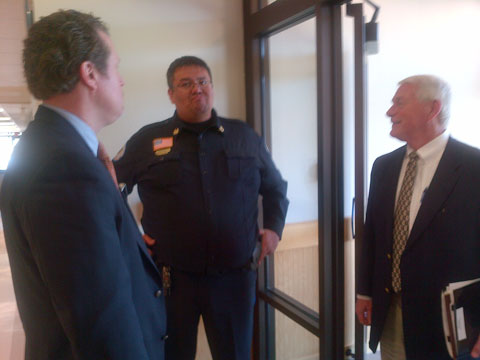 SSRA Bryan Van Duen, FBI; Chief of Police Donavon Wind, BIA; USA Michael Cotter. Northern Cheyenne Tribal Headquarters
---
March 12th, 2013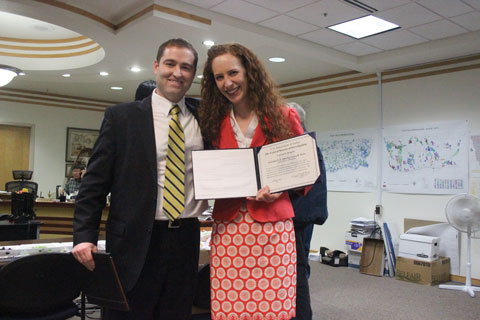 Acting Supervisor Agent in Charge of the Highline, Brian Kimball; Laura Weiss, AUSA. AUSA Weiss receiving recognition from the FBI regarding her contribution to U.S. vs. Salois.
---
January 18th, 2013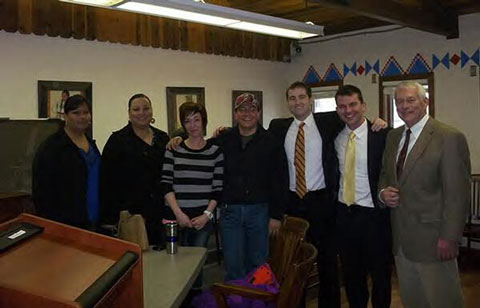 Tribal Prosecutor, Mistee Doore; BIA Victim Specialist Wendy Running Crane; FBI Victim Specialist Kelli Fowler; BIA Criminal Investigator Kyle Sinclair; FBI SAC Brian Kimball; AUSA Ryan Weldon; USA Michael Cotter. Government to government meeting between the USAO and Blackfeet Tribe.