Project Safe Neighborhoods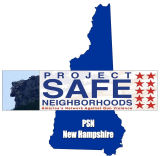 Project Safe Neighborhoods (PSN) is a federally-funded program intended to reduce gun violence through law enforcement training, public education, and aggressive law enforcement efforts to investigate and prosecute gun-related crimes. It is coordinated by the U.S. Attorney in each federal district. U.S. Attorney John Kacavas is assisted in the PSN initiative by Assistant U.S. Attorney Deb Walsh, who serves as PSN Coordinator in New Hampshire and John Tuthill, who serves as the PSN Investigator. The project is overseen by a Task Force of federal, state, county & local law enforcement officials from throughout the state, which meets regularly. The PSN Task Force includes representatives of the following agencies:
PSN Task Force Members:
Eastlantic Advertising, Media Partner
JusticeWorks, Research Partner

St. Anselm College
University of New Hampshire
NH Department of Justice
NH Department of Health, Division for Juvenile
Justice Services
NH Department of Safety
NH Department of Corrections
NH Bureau of Liquor Enforcement
Belknap County Sheriff's Office
Hillsborough County Attorney's Office
Hillsborough County Sheriff's Office
Merrimack County Attorney's Office
Rockingham County Attorney's Office
Rockingham County Department of Corrections
Rochester Police Department
Manchester Police Department
Nashua Police Department
Portsmouth Police Department
Drug Enforcement Administration
Bureau of Alcohol, Tobacco, Firearms & Explosives
Federal Bureau of Investigation
DHS/Immigration and Customs Enforcement
U.S. Marshals Service
U.S. Probation Office
DOJ - Project Safe Neighborhoods Page



Making sure that victims of federal crimes are treated with compassion, fairness and respect.