Welcome to the U.S. Attorney's Office for Southern District of Ohio
As part of the U.S. Department of Justice, we are responsible for virtually all federal litigation in the District. This includes criminal prosecutions for violations of federal law, civil lawsuits by and against the government, and actions to collect judgments and restitution on behalf of victims and taxpayers.
The Southern District of Ohio has staffed offices in Columbus, Cincinnati, and Dayton. There are 94 U.S. Attorney's Offices throughout the United States, Puerto Rico, the U.S. Virgin Islands, Guam, and the Northern Mariana Islands.

We hope that you will find our website informative and thank you for visiting.
News
May 01, 2013
27-MONTH SENTENCE FOR PROMOTER OF CINCINNATI GRAND PRIX
Curtis Boggs, 54, formerly of Harrison, Ohio, was sentenced in U.S. District Court to 27 months in prison, ordered to pay $352,745.21 in restitution and forfeit any assets that he received as proceeds of the crimes he committed as part of a fraudulent scheme he promoted to bring a Grand Prix race to Cincinnati in 2009.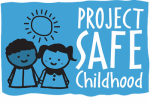 Help us combat the proliferation of sexual exploitation crimes against children.

Making sure that victims of federal crimes are treated with compassion, fairness and respect.