DAYTON MAN PLEADS GUILTY TO CONCEALING CRIMES IN MORTGAGE FRAUD SCHEME
CONTACT: Fred Alverson
Public Affairs Officer
(614) 469-5715
DAYTON  –  Robert L. Hancher, 46, of Dayton pleaded guilty in United States District Court to one count of misprision of a felony for failing to report criminal activity as part of a mortgage fraud scheme.
Carter M. Stewart, United States Attorney for the Southern District of Ohio and Jose A. Gonzalez, Special Agent in Charge, Internal Revenue Service Criminal Investigation (IRS), announced the plea entered today before United States District Judge Thomas M. Rose.
According to a statement of facts filed with Hancher's plea, Hancher operated a business known as Ultra Enterprises, Inc. This business was engaged in the purchase, renovation and re-sale of certain depressed rental properties located in or near Dayton.  Between July 2005 and January 2008, Hancher entered into various real estate transactions involving Gregory S. Chew.  Chew acted as a so-called real estate "facilitator" through his Dayton, Ohio-based businesses known as Raging Bull Enterprises, Inc, a/k/a R. B., Inc.   Chew specifically collaborated with Hancher in locating prospective purchasers for Hancher's properties.  During this time frame, Chew located purchasers for approximately 15 separate properties owned by Hancher.
Hancher knew that Chew was engaging in fraud by secretly providing down payments for buyers and making false claims on loan documents. Hancher failed to notify authorities of his knowledge of Chew's criminal activities.  Hancher also took steps to conceal these crimes while continuing to operate Ultra Enterprises, Inc. and continuing to transact business with Chew.
A jury convicted Chew after a 15-day trial in March 2010 of fraud, conspiracy and money laundering.  Chew is awaiting sentencing.
Misprision of a felony is punishable by up to three years in prison and a fine of up to $250,000. Judge Rose will set a date for sentencing.
Stewart commended the investigation by IRS agents, and Assistant U.S. Attorney Dwight Keller, who is prosecuting the case.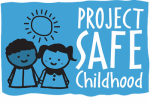 Help us combat the proliferation of sexual exploitation crimes against children.

Making sure that victims of federal crimes are treated with compassion, fairness and respect.