JURY CONVICTS LOCKBOURNE MAN OF FAILING TO REGISTER AS SEX OFFENDER
CONTACT: Fred Alverson
Public Affairs Officer
(614) 469-5715
Violations of Adam Walsh Act

COLUMBUS – A jury in U.S. District Court here today convicted Stanley B. Strong, 41, of Lockbourne of two counts of failure to register as a sex offender, as required by the Sex Offender Registration and Notification Act (SORNA).

Carter M. Stewart, United States Attorney for the Southern District of Ohio and United States Marshal Cathy Jones announced the verdict returned today at the conclusion of a trial that began Monday, January 24, 2011 before U.S. District Judge Edmund A. Sargus Jr.

In 1996, Strong was convicted in Franklin County of Gross Sexual Imposition and required to register as a sex offender. After serving his sentence, he moved to Lawrenceville, Georgia. Evidence presented during the trial showed that he left Georgia and moved to Lockbourne in 2009 after learning that Georgia police had warrants for his arrest in connection with a series of burglaries.

Based on evidence presented during the trial, the jury decided that once Strong left the state of Georgia and took up residence in the Southern District of Ohio, he violated SORNA when he knowingly failed to update his sex offender registration in Georgia. He broke the law again when he did not register in Ohio upon taking up residence here.

Strong faces a possible sentence of ten years in federal prison on each count, a fine of up to $250,000 and the possibility of supervised release for the rest of his life. Judge Sargus will set a date for sentencing.
Stewart commended Assistant U.S. Attorney Michael Hunter, who prosecuted the case, and the investigation by Deputy U.S. Marshal Nicole Ralston and the Marshals Service.

SORNA is part of the Adam Walsh Child Protection and Safety Act in 2006. The law requires anyone convicted of sex crimes under federal law, or anyone convicted in state court and traveling in interstate commerce, to register with law enforcement agencies where they live, work or are a student.

The Adam Walsh Act provides federal criminal penalties for a knowing failure to register or update. The Adam Walsh Act also provides for the use of federal law enforcement resources, including the U.S. Marshals Service, to assist the states in locating and apprehending non-compliant sex offenders.

U.S. Marshals are the nation's primary fugitive hunting organization and capture more federal fugitives each year than all other law enforcement agencies combined. For more information, go to www.usmarshals.gov.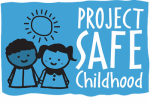 Help us combat the proliferation of sexual exploitation crimes against children.

Making sure that victims of federal crimes are treated with compassion, fairness and respect.