DAYTON MAN SENTENCED TO 32 MONTHS IN PRISON FOR TAX FRAUD
CONTACT: Fred Alverson
Public Affairs Officer
(614) 469-5715
DAYTON – Rickie S. Rutledge, 55, of Dayton, was sentenced in United States District Court here today to 32 months imprisonment in a tax fraud scheme that involved preparing false tax returns to obtain fraudulent refunds in the names of other taxpayers.
Carter M. Stewart, United States Attorney for the Southern District of Ohio, and Darryl Williams, Special Agent in Charge, Internal Revenue Service (IRS) Criminal Investigations, Cincinnati Field Office, announced the sentence handed down today by United States District Judge Thomas M. Rose.
Rutledge pleaded guilty in May 2011 to one count of conspiracy to file false, fictitious, and fraudulent claims.  According to the statement of facts filed in court, Rutledge worked together with his co-conspirator, Donna Dunn, to submit thousands of dollars in false and fraudulent personal income tax returns to the IRS.  As part of this agreement, Dunn and Rutledge obtained personal identifying information – such as dates of birth, social security numbers, and addresses – from individuals who lived in the Dayton, Ohio area.

The pair then fraudulently prepared and submitted to the IRS false tax returns in the names of dozens of individuals, falsely claiming that the purported tax payers identified in the submissions were entitled to substantial tax refunds from the IRS.  The tax refund checks were sent to various addresses in the Dayton, Ohio area over which Rutledge and Dunn had control or access, and they caused the refund checks to be cashed at various locations in Montgomery County, Ohio. 
Dunn was sentenced in August 2011 to five year's probation for her role in the scheme.
Rutledge was ordered to pay $81,000 in restitution to the IRS and must serve three years on supervised release after his prison term.

Stewart commended the investigation of this case by IRS Criminal Investigation agents, and Assistant U.S. Attorney Brent Tabacchi, who prosecuted the case.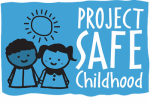 Help us combat the proliferation of sexual exploitation crimes against children.

Making sure that victims of federal crimes are treated with compassion, fairness and respect.