COLUMBUS MAN PLEADS GUILTY TO RECEIVING CHILD PORNOGRAPHY
CONTACT: Fred Alverson
Public Affairs Officer
(614) 469-5715
Used cell phone to record video of young boy in Wal-Mart restroom
COLUMBUS – Okey Belcher, 28, of Columbus pleaded guilty in U.S. District Court to one count of knowingly receiving visual images of child pornography. Belcher was arrested on December 5, 2011 after he recorded cell phone video of a child in the restroom of a Grove City Wal-Mart where he worked as a plain-clothes loss prevention officer.
Carter M. Stewart, United States Attorney for the Southern District of Ohio, Brian Moskowitz, Special Agent in Charge, U.S. Immigration and Customs Enforcement's (ICE) Homeland Security Investigations (HSI) in Ohio and Michigan, Franklin County Prosecutor Ron O'Brien, Franklin County Sheriff Zach Scott, and Grove City Police Chief Steve Robinette announced the plea entered today before Senior U.S. District Judge Peter C. Economus.
According to a statement read by an HSI agent during the hearing, the father of a young boy confronted Belcher outside a store restroom after his son told him that Belcher had tried to record a video of the boy in the restroom. The father called the Grove City Police, who obtained a search warrant for Belcher's phone and iPod Touch. The officers found two videos on Belcher's cell phone, which depicted the boy in the restroom.  Examination of the iPod Touch revealed approximately 100 images of nude young pubescent boys and pubescent girls with direct focus on the genitalia.  The children appeared to be between the ages of fourteen and sixteen. 
"The defendant's actions created a very real and very substantial threat to the safety and well-being of young children," Assistant U.S. Attorney Heather Hill wrote in a motion asking that Belcher be held without bond. Her motion was granted.
Investigators got a search warrant for Belcher's house and seized a computer which contained approximately 600 images and 100 digital movies of child pornography.

Possession of child pornography is punishable by at least five years and up to 20 years imprisonment.
In the plea agreement, Stewart asked the court to consider Belcher's conduct in the Walmart restroom, the number of images he possessed, the age of the victims and the nature of the conduct depicted when determining the sentence. Judge Economus will set a date for sentencing.
"This type of crime is appalling and made even more disturbing when it is carried out by an individual in a position of trust with ready access to the public and especially innocent children," said Moskowitz, special agent in charge of ICE HSI in Ohio and Michigan. "The aggressive investigation and ultimate prosecution of those who engage in this type of activity remains among our highest priorities at HSI."
Stewart commended the quick response and investigation by Grove City Police, Franklin County deputies and HSI agents, as well as Assistant U.S. Attorney Heather Hill and Special Assistant U.S. Attorney Casey Russo with the Franklin County Prosecutor's Office, who are prosecuting the case.
This case was brought as part of Project Safe Childhood, a nationwide initiative by the Department of Justice to combat the growing epidemic of child sexual exploitation and abuse. Led by United States Attorneys' Offices and the Criminal Division's Child Exploitation and Obscenity Section (CEOS), Project Safe Childhood marshals federal, state and local resources to better locate, apprehend and prosecute individuals who exploit children as well as to identify and rescue victims. For more information about Project Safe Childhood, please visit www.projectsafechildhood.gov.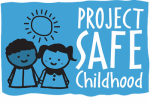 Help us combat the proliferation of sexual exploitation crimes against children.

Making sure that victims of federal crimes are treated with compassion, fairness and respect.