SPRINGFIELD MAN SENTENCED TO 15 YEARS IN PRISON FOR ATTEMPTED SEXUAL EXPLOITATION OF CHILDREN
CONTACT: Fred Alverson
Public Affairs Officer
(614) 469-5715
COLUMBUS – James M. Goodman, 44, of Springfield was sentenced in U.S. District Court to 180 months in prison for using the Internet to try and arrange to take sexually explicit photographs of young girls.
Carter M. Stewart, United States Attorney for the Southern District of Ohio, Franklin County Sheriff Zach Scott, Brian Moskowitz, Special Agent in Charge, U.S. Immigration and Customs Enforcement's (ICE) Homeland Security Investigations (HSI) in Ohio and Michigan, and Ohio Attorney General Mike DeWine announced the sentence handed down today by U.S. District Judge Gregory L. Frost.
Investigators uncovered an ad Goodman posted on an Internet website in April 2010 seeking models for a photo shoot. Goodman used language commonly associated with child pornography. An undercover investigator with the Franklin County ICAC Task Force patrolling the Internet responded to the ad posing as a foster father of two young girls. After corresponding for several weeks, they agreed to meet at a restaurant west of Columbus.

When Goodman arrived for the meeting, task force officers arrested him. They searched his Springfield residence and found more than 100 images of child pornography on his desktop and laptop computers. Goodman has been in custody since his arrest. Goodman pleaded guilty on September 30, 2011 to one count of attempted sexual exploitation of children.
"Defendants who collect and traffic in child pornography do so because they are sexually interested in children," Assistant U.S. Attorney Michael Hunter wrote in a sentencing memorandum filed with the court. "Such defendants will subsequently act out or attempt to act out on those sexual interests."
"Goodman's sentence includes a five-year period of court supervision after he serves his prison time," Stewart said. "While under supervised release, Goodman must permit the installation of appropriate monitoring software, upon any computer that he owns, uses, or has access to that is connected to the Internet. He will also be required to register as a sex offender anywhere that he lives, works or goes to school."
"The defendant attempted to lure young girls online for the purpose of sexual exploitation and instead came under the scrutiny of law enforcement," said Moskowitz. "This sentence should serve as a stark warning to online predators who use the internet to further their crimes: We are watching and the aggressive investigation and prosecution of these individuals remains a high priority for HSI."
Stewart commended the investigation by the Franklin County Internet Crimes Against Children Task Force, Assistant U.S. Attorney Michael Hunter, and Special Assistant U.S. Attorney Emily Pelphrey with Ohio Attorney General Mike DeWine's Office, who are prosecuting the case.
This case was brought as part of Project Safe Childhood, a nationwide initiative by the Department of Justice to combat the growing epidemic of child sexual exploitation and abuse. Led by United States Attorneys' Offices and the Criminal Division's Child Exploitation and Obscenity Section (CEOS), Project Safe Childhood marshals federal, state and local resources to better locate, apprehend and prosecute individuals who exploit children as well as to identify and rescue victims. For more information about Project Safe Childhood, please visit
www.projectsafechildhood.gov.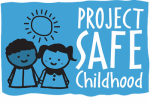 Help us combat the proliferation of sexual exploitation crimes against children.

Making sure that victims of federal crimes are treated with compassion, fairness and respect.