30-YEAR SENTENCE FOR WHITEHALL MAN FOR RECEIPT AND POSSESSION OF CHILD PORNOGRAPHY
CONTACT: Fred Alverson
Public Affairs Officer
(614) 469-5715
COLUMBUS – William H. Conner, 49, of Whitehall was sentenced in U.S. District Court to 360 months in prison following his conviction on four counts of receipt and one count of possession of child pornography.
Carter M. Stewart, United States Attorney for the Southern District of Ohio, Franklin County Sheriff Zach Scott, Brian Moskowitz, Special Agent in Charge, U.S. Immigration and Customs Enforcement's (ICE) Homeland Security Investigations (HSI) in Ohio and Michigan, and Franklin County Prosecutor Ron O'Brien announced the sentence handed down yesterday by U.S. District Judge Gregory L. Frost.
An undercover investigator patrolling the Internet in the fall of 2010 established a connection through a peer-to-peer file-sharing program with a computer later determined to belong to Conner on two occasions and determined that the user was sharing approximately 600 files with names indicating child pornography. They traced the Internet address to Conner's residence, obtained a search warrant and found computers and storage media containing hundreds of images of nude infant and toddler-age females being sexually abused by male adults.  Additional investigation found that Conner was in possession of a VHS tape he created in 1998 that depicted him engaged in sex acts with a then 6 year old female.
Investigators arrested Conner on November 15, 2010.  A grand jury indicted Conner on December 16, 2010.  A jury convicted Conner in August 2011 after a three-day trial.
"Mr. Conner came to law enforcement's attention as a result of his downloading of child pornography via peer-to-peer software," Assistant U.S. Attorney Michael Hunter wrote in a sentencing memorandum filed with the court. "It was only then, through the investigative actions of the Franklin County Internet Crimes Against Children Task Force and the courage of his previous child victims, that the curtains were finally pulled open on Conner's dark past."
Conner has been in custody since his arrest.  His sentence includes a ten-year period of court supervision after he serves his prison time.  While under supervised release, Conner must permit the installation of appropriate monitoring software upon any computer that he owns, uses, or has access to that is connected to the Internet.  He will also be required to register as a sex offender anywhere that he lives, works or goes to school.
"We urged the Court to consider recommending Conner be placed into a facility which provides sex offender treatment and admission into sex offender treatment, such as at one of the Bureau of Prison institutions which provides Sex Offender Management Program (SOMP) or Sex Offender Treatment Programs (SOTP),"  Stewart said.
Stewart commended the investigation by the Franklin County Internet Crimes Against Children Task Force, and Assistant U.S. Attorney Michael Hunter and Special Assistant U.S. Attorney Casey Russo with Franklin County Prosecutor O'Brien's Office, who prosecuted the case.
This case was brought as part of Project Safe Childhood, a nationwide initiative by the Department of Justice to combat the growing epidemic of child sexual exploitation and abuse. Led by United States Attorneys' Offices and the Criminal Division's Child Exploitation and Obscenity Section (CEOS), Project Safe Childhood marshals federal, state and local resources to better locate, apprehend and prosecute individuals who exploit children as well as to identify and rescue victims. For more information about Project Safe Childhood, please visit www.projectsafechildhood.gov.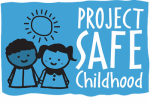 Help us combat the proliferation of sexual exploitation crimes against children.

Making sure that victims of federal crimes are treated with compassion, fairness and respect.