U.S. SETTLES CIVIL CHARGES AGAINST FORMER CSX EMPLOYEE FOR DEFRAUDING RAILROAD RETIREMENT BOARD
CONTACT: Fred Alverson
Public Affairs Officer
(614) 469-5715
CINCINNATI – Robert Gilkison and his wife Cynthia Gilkison of Maysville, Kentucky have agreed to pay $200,000 to resolve civil False Claims Act charges and other civil claims against them for engaging in a fraudulent scheme through which they attained hundreds of thousands of dollars of disability payments to which they were not entitled.
Carter M. Stewart, United States Attorney for the Southern District of Ohio, announced the settlement and order, which were signed by Senior U.S. District Judge Sandra S. Beckwith.

According to the complaint, Gilkison began receiving disability payments from the Railroad Retirement Board (RRB) in 1989 and continued receiving them through 2005. He was required to report any income he received in excess of $400 per month on an annual report filed with the RRB.
During the 15-year period, he received a monthly salary of $400 from two law firms who hired him to identify potential plaintiffs for litigation that would then be brought by the firms. In addition, the firms provided Gilkison with money to pay health insurance premiums, cars, car insurance payments, and reimbursement for home office expenses, entertainment expenses, and business-related expenses.
The complaint alleges that Gilkison received more than $167,000 from one of the law firms between 1997 and 2005, including more than $96,000 for cash expenditures. In addition, Mr. Gilkison received reimbursement for cash and credit card expenditures which included money for motel rooms, drinks, his home office, his car phone, and tickets for University of Kentucky basketball games and Cincinnati Bengals football games.   
In annual disability reports filed with RRB, Gilkison claimed he did not receive any compensation beyond his $400 monthly salary.
Stewart thanked the Railroad Retirement Board, Office of the Inspector General for its assistance in the investigation. Deputy Civil Chief Donetta D. Wiethe and Assistant U.S. Attorney Adam L. Wright are in charge of the case.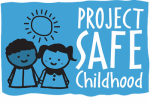 Help us combat the proliferation of sexual exploitation crimes against children.

Making sure that victims of federal crimes are treated with compassion, fairness and respect.