CONVICTED SEX OFFENDER RECEIVES MAXIMUM 20-YEAR SENTENCE FOR
POSSESSION OF CHILD PORNOGRAPHY
CONTACT: Fred Alverson
Public Affairs Officer
(614) 469-5715
CINCINNATI – William Lee Allen Jr., 41, of Cincinnati was sentenced in U.S. District Court to 240 months in prison, the maximum allowed under federal law for possession of child pornography, and ordered to be placed under court supervision for the rest of his life for possessing more than 11,000 images of child pornography and sharing them over the internet.
Carter M. Stewart, United States Attorney for the Southern District of Ohio, and Brian Moskowitz, Special Agent in Charge, U.S. Immigration and Customs Enforcement's (ICE) Homeland Security Investigations (HSI) in Ohio and Michigan, announced the sentence handed down today by Chief U.S. District Judge Susan Dlott.
According to court documents, Allen approached an undercover investigator patrolling the Internet in January 2011 expressing a desire to look at child pornography and watch someone abuse a child. HSI investigators identified Allen by tracing his internet address, obtained a search warrant for his apartment, and found a computer containing more than 11,000 images of child pornography. Many of the images and/or videos depict minor prepubescent children being sexually abused and/or posed in sexually explicit poses. Some of the images involve children being bound. Agents arrested Allen. He has been in custody since his arrest.
Allen was convicted in 1991 in Clermont County of rape and gross sexual imposition involving three minor victims. Allen pleaded guilty in federal court on April 25, 2011 to possession of child pornography.
"The need to protect the community from further crimes of the defendant is paramount in this case," Assistant U.S. Attorney Christy Muncy wrote in a sentencing memo filed with the court prior to sentencing. "While incarcerated the defendant should be ordered to participate in all available mental health and sex offender programs."
"People with an interest in child pornography can be violent criminals who prey on the most vulnerable victims, children," Stewart said. "I want to commend the HSI agents for their investigation along with Assistant U.S. Attorney Muncy, who prosecuted the case."
"Child pornography is the permanent record of the sexual exploitation and abuse of a child and it must be stopped," said Moskowitz. "We will continue to aggressively target those engaged in this activity."
This case was brought as part of Project Safe Childhood, a nationwide initiative by the Department of Justice to combat the growing epidemic of child sexual exploitation and abuse. Led by United States Attorneys' Offices and the Criminal Division's Child Exploitation and Obscenity Section (CEOS), Project Safe Childhood marshals federal, state and local resources to better locate, apprehend and prosecute individuals who exploit children as well as to identify and rescue victims. For more information about Project Safe Childhood, please visit
www.projectsafechildhood.gov.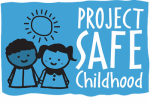 Help us combat the proliferation of sexual exploitation crimes against children.

Making sure that victims of federal crimes are treated with compassion, fairness and respect.