COLUMBUS MAN INDICTED FOR ATTEMPTED CHILD EXPLOITATION
CONTACT: Fred Alverson
Public Affairs Officer
(614) 469-5715
COLUMBUS – A federal grand jury has charged Patrick Mahoney, 34, of Columbus in a six-count indictment alleging that he attempted to arrange a sexual liaison with a 15 year-old girl in order to produce child pornography.
Carter M. Stewart, United States Attorney for the Southern District of Ohio, Brian Moskowitz, Special Agent in Charge, U.S. Immigration and Customs Enforcement's (ICE) Homeland Security Investigations (HSI) in Ohio and Michigan, and Franklin County Sheriff Zach Scott whose office includes the Ohio Internet Crimes Against Children Task Force (ICAC) announced the indictment returned today.
The indictment alleges that Mahoney arranged online a sexual encounter with an undercover officer whom he thought was a 15 year-old girl. He allegedly intended to photograph the encounter with his cell phone.
The indictment charges Mahoney with one count of attempt to produce child pornography, which is punishable by at least 15 years and up to 30 years in prison. He is also charged with attempted child exploitation, a crime punishable by at least ten years and up to life in prison, three counts of receiving and distributing child pornography. Each count is punishable by at least five and up to 20 years in prison. He is also charged with one count of possession of child pornography, punishable by up to ten years in prison.
Mahoney was arrested on a criminal complaint on February 17, 2012 and has been in custody since his arrest. Agents searched a laptop computer belonging to Mahoney and found to contain child pornography.
This investigation was part of Operation Predator, a nationwide ICE HSI initiative to protect children from sexual predators, including those who travel overseas for sex with minors, Internet child pornographers, criminal alien sex offenders, and child sex traffickers. ICE HSI encourages the public to report suspected child predators and any suspicious activity through its toll-free hotline at 1-866-DHS-2-ICE or by completing its online tip form. Both are staffed around the clock by investigators.
Suspected child sexual exploitation or missing children may be reported to the National Center for Missing and Exploited Children, an Operation Predator partner, at 1-800-843-5678 or http://www.cybertipline.com.
This case was brought as part of Project Safe Childhood, a nationwide initiative designed to protect children from online exploitation and abuse. Led by the U.S. Attorneys Offices, Project Safe Childhood marshals federal, state and local resources to better locate, apprehend and prosecute individuals who exploit children, as well as identify and rescue victims. For more information about Project Safe Childhood, please visit www.projectsafechildhood.gov/.
Stewart commended the cooperative investigation by HSI agents and ICAC members, as well as Assistant U.S. Attorney Heather Hill, who is prosecuting the case.
An indictment merely contains allegations, and the defendant is presumed innocent unless proven guilty in a court of law.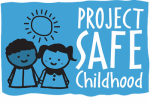 Help us combat the proliferation of sexual exploitation crimes against children.

Making sure that victims of federal crimes are treated with compassion, fairness and respect.