DAYTON MAN PLEADS GUILTY TO ASSAULTING A FEDERAL AGENT, KIDNAPPING AND FIREARM CHARGES
CONTACT: Fred Alverson
Public Affairs Officer
(614) 469-5715
DAYTON – Demond R. Johnigan, 18, of Dayton pleaded guilty here today to kidnapping, assault with a deadly weapon, and brandishing a firearm during a crime of violence in connection with a carjacking, in which he pointed a gun at a federal officer as the FBI agent tried to apprehend him.
Carter M. Stewart, United States Attorney for the Southern District of Ohio, Keith L. Bennett, Special Agent in Charge, Federal Bureau of Investigation (FBI), and Dayton Police Chief Rick Biehl announced the plea today before District Judge Timothy S. Black.
According to the statement of facts filed in court, on December 16, 2010, Johnigan and his co-defendant, Jakova James-Sims, went to the parking lot of Roosevelt Recreation Center, located in Montgomery County, Ohio and approached a victim as the victim stood near his Chevrolet Monte Carlo.  Johnigan drew a firearm, pointed it at the victim and demanded the victim's money.  While Johnigan held the victim at gunpoint, James-Sims patted down the victim searching for cash and other items of value.  The men then forced the victim into the backseat of his car, continued to demand cash, and continued to threaten to injure the victim if he did not comply with their demands for money. 
            Shortly after taking leaving the parking lot with the victim, Johnigan and James-Sims noticed an SUV was following them, and proceeded to park the car in an open garage and exit the vehicle. As he fled down an alley, Johnigan raised his firearm and pointed it at the approaching SUV, which was being driven by an FBI special agent.  The agent put the vehicle in reverse and backed out of the alley as he called for assistance.  Johnigan and James-Sims were apprehended after a brief foot chase, when officers found a loaded gun belonging to Johnigan nearby.
Johnigan faces a sentence of up to life in prison on the kidnapping charge, 20 years on the assault with a deadly weapon charge, and at least 7 years up to life on the brandishing a firearm charge.  He also faces fines of $250 thousand on each charge and 3 to 5 years of supervised release.
Stewart commended the quick reaction of the FBI agent and Dayton Police officers who made the arrests, and Assistant U.S. Attorneys Brent Tabacchi and Mona Guerrier who are prosecuting the case.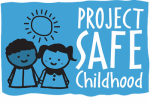 Help us combat the proliferation of sexual exploitation crimes against children.

Making sure that victims of federal crimes are treated with compassion, fairness and respect.