NINE-YEAR SENTENCE FOR COLUMBUS MAN FOR RECEIPT OF CHILD PORNOGRAPHY
CONTACT: Fred Alverson
Public Affairs Officer
(614) 469-5715
Used cell phone to record video of young boy in store restroom
COLUMBUS – Okey Belcher, 29, of Columbus was sentenced in U.S. District Court today to 108 months in prison for knowingly receiving visual images of child pornography. Belcher was arrested on December 5, 2011 after he used his cell phone to record a video of a child in the restroom of a Grove City Wal-Mart where he worked.
Carter M. Stewart, United States Attorney for the Southern District of Ohio, Brian Moskowitz, Special Agent in Charge, U.S. Immigration and Customs Enforcement's (ICE) Homeland Security Investigations (HSI) in Ohio and Michigan, Franklin County Prosecutor Ron O'Brien, Franklin County Sheriff Zach Scott, and Grove City Police Chief Steve Robinette announced the sentence imposed today by Senior U.S. District Judge Peter C. Economus.
"The deterrence of child pornography crimes is paramount to the goal of lessening the demand for child pornography and reducing the number of innocent young children being subjected to sexual exploitation," Stewart said. "Viewers of child pornography create a dangerous 'marketplace' for the distribution of images depicting child sex abuse."
On February 6, 2012, Belcher entered a plea of guilty to one count of receiving visual depictions of child pornography. Belcher admitted to downloading and viewing images of child pornography on his I-pod Touch and his laptop computer, and that he possessed approximately 600 images and 100 videos of child pornography. Investigators also found Internet chat files on Belcher's computer where he discussed his desire to have sexual intercourse with young children. Belcher admitted that he used his cell phone to record a nine-year-old in the bathroom of a Wal-Mart and that he had previously attempted to make similar recordings of minors in other restrooms.
"The offense in this case is much more serious than the typical receipt or possession case due to the defendant's attempts to act out with real children," Assistant U.S. Attorney Heather Hill wrote in a sentencing memorandum filed with the court.
"This type of crime is appalling and made even more sobering when the crime occurs within earshot of a victim's parents, which was the case here," said Moskowitz, special agent in charge of ICE HSI in Ohio and Michigan. "Cases like this are a painful reminder that as parents, there are very few places where we can safely leave our children unattended."
Judge Economus also recommended Belcher, who has been in custody since his arrest, serve his prison term in a federal prison that has a sex offender treatment program. He fined Belcher $2,500 and ordered him to remain under court supervision for 25 years after he completes his prison time. While under court supervision, Belcher must register as a sex offender anywhere he lives, works or goes to school.
Stewart commended the quick response and investigation by Grove City Police, Franklin County deputies and HSI agents, as well as Assistant U.S. Attorney Heather Hill and Special Assistant U.S. Attorney Casey Russo with the Franklin County Prosecutor's Office, who prosecuted the case.
This case was brought as part of Project Safe Childhood, a nationwide initiative by the Department of Justice to combat the growing epidemic of child sexual exploitation and abuse. Led by United States Attorneys' Offices and the Criminal Division's Child Exploitation and Obscenity Section (CEOS), Project Safe Childhood marshals federal, state and local resources to better locate, apprehend and prosecute individuals who exploit children as well as to identify and rescue victims. For more information about Project Safe Childhood, please visit www.projectsafechildhood.gov.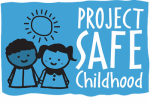 Help us combat the proliferation of sexual exploitation crimes against children.

Making sure that victims of federal crimes are treated with compassion, fairness and respect.