COLUMBUS MAN PLEADS GUILTY TO "SEXPLOITATION" OF A MINOR
CONTACT: Fred Alverson
Public Affairs Officer
(614) 469-5715
COLUMBUS – Randall V. Roberts, 41, of Columbus pleaded guilty in U.S. District Court here today to one count of coercion for using the Internet to attempt to persuade a minor to engage in unlawful sexual activity. He faces at least ten years and up to life in prison.
Carter M. Stewart, U.S. Attorney for the Southern District of Ohio, Brian M. Moskowitz, special agent in charge of HSI in Ohio and Michigan, and Franklin County Sheriff Zach Scott, on behalf of the Franklin County Internet Against Crimes (ICAC) Task Force, announced the plea entered today before U.S. District Judge Michael H. Watson.
According to court documents, Roberts met a then 14-year old in a social networking website and they exchanged phone numbers. Roberts persuaded the child to come to his home in December 2011, provided the child with alcohol and coerced the child into sexual activity.
Roberts then threatened to send an email that would get the child in trouble if the child failed to meet with him for continued sexual activity. One of the child's relatives found text messages from Roberts on the child's phone and notified the ICAC Task Force. ICAC officers arrested Roberts on May 16, 2012. He has been in custody since his arrest.
"Sexploitation means threatening to expose someone's illegal sexual activity in order to keep them quiet or to keep them engaged in the activity," U.S. Attorney Stewart said. "It adds fear to the dignity and humiliation a victim is already facing."
Judge Watson will schedule a sentencing hearing for Roberts.
"Protecting America's children from sexual predators is one of the most important public safety roles we have at HSI and sadly, it is a role that is very much needed," said Brian M. Moskowitz, special agent in charge of ICE HSI in Michigan and Ohio. "All children have an absolute right to grow up free from the fear of sexual exploitation. We will continue to focus our efforts on identifying and investigating those who victimize children."
This case was brought as part of Project Safe Childhood, a nationwide initiative launched in May 2006 by the Department of Justice to combat the growing epidemic of child sexual exploitation and abuse. Led by the United States Attorneys' Offices and the Criminal Division's Child Exploitation and Obscenity Section, Project Safe Childhood marshals federal, state, and local resources to locate, apprehend, and prosecute individuals who sexually exploit children, and to identify and rescue victims. For more information about Project Safe Childhood, please visit www.justice.gov/psc For more information about internet safety education, please visit www.justice.gov/psc and click on the tab "resources."
Stewart commended the cooperative investigation by ICAC members, as well as Assistant U.S. Attorney Heather Hill and Special Assistant U.S. Attorney Casey Russo with Franklin County Prosecutor Ron O'Brien's office, who are prosecuting the case.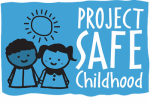 Help us combat the proliferation of sexual exploitation crimes against children.

Making sure that victims of federal crimes are treated with compassion, fairness and respect.