FIVE-YEAR SENTENCE FOR COLUMBUS MAN WHO POSSESSED MORE THAN 800 VIDEOS AND 2,000 IMAGES OF CHILD PORNOGRAPHY
CONTACT: Fred Alverson
Public Affairs Officer
(614) 469-5715
COLUMBUS – Ryan C. Driscoll, 28, of Columbus was sentenced in U.S. District Court to 60 months in prison followed by ten years of court supervision after pleading guilty to possessing more than 800 videos and 2,000 images of child pornography.
Carter M. Stewart, United States Attorney for the Southern District of Ohio, Franklin County Sheriff Zach Scott, Edward Hanko, Special Agent in Charge, Federal Bureau of Investigation, Cincinnati Field Division, Chief Joseph Morbitzer of the Westerville Police Department and other members of the Franklin County Internet Crimes Against Children (ICAC) Task Force, announced the sentence handed down today by U.S. District Judge Algenon L. Marbley.
ICAC investigators patrolling the Internet encountered Driscoll in a chat room on multiple occasions between October 2010 and February 2011. Driscoll told the undercover officer that he was sexually interested in children between the ages of newborn and 12-years old. After several conversations, investigators determined there was probable cause that crimes had been committed. They traced his computer to his parents' residence and obtained a search warrant.
Task Force officers executed the search warrant on May 6, 2011. They found 800 videos and 1,500 images of child pornography on an external computer hard drive in Driscoll's bedroom and another 800 images on his laptop computer. Driscoll pleaded guilty on November 18, 2011 to one count of receipt of child pornography.
In a document filed with the court prior to sentencing, Assistant U.S. Attorney Michael Hunter wrote that "both the size and content of Mr. Driscoll's collection, the fact that he was chatting with undercover officers and espousing his sexual interest in children as young as newborn to 12 years of age, and Mr. Driscoll's contrived stories to his co-workers about his non-existent daughter and offers to baby-sit for their children, makes this case more serious than a mill-run child pornography case."
Judge Marbley also sentenced Driscoll to pay $1500 in restitution to a former child-victim who filed a claim that Driscoll's possession of videos of her being sexually abused as a child caused her a continuing emotional and psychological harm.  If Driscoll is willing to participate, he will be placed in a prison which provides sex offender treatment.
Stewart commended the investigation by the Franklin County ICAC Task Force and Assistant U.S. Attorney Michael Hunter who prosecuted the case.
This case was brought as part of Project Safe Childhood, a nationwide initiative by the Department of Justice to combat the growing epidemic of child sexual exploitation and abuse. Led by United States Attorneys' Offices and the Criminal Division's Child Exploitation and Obscenity Section (CEOS), Project Safe Childhood marshals federal, state and local resources to better locate, apprehend and prosecute individuals who exploit children as well as to identify and rescue victims. For more information about Project Safe Childhood, please visit
www.projectsafechildhood.gov.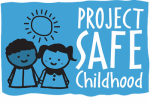 Help us combat the proliferation of sexual exploitation crimes against children.

Making sure that victims of federal crimes are treated with compassion, fairness and respect.