JURY CONVICTS DAYTON MAN OF ILLEGAL POSSESSION OF FIREARM, AMMUNITION
CONTACT: Fred Alverson
Public Affairs Officer
(614) 469-5715
DAYTON – A U.S. District Court jury here has convicted Edward Robinson, 35, of Dayton of one count of being a felon in possession of a firearm and one count of being a felon in possession of ammunition.
Carter M. Stewart, United States Attorney for the Southern District of Ohio, Robin Shoemaker, Special Agent in Charge, Bureau of Alcohol, Tobacco, Firearms and Explosives (ATF), and Butler Township Interim Police Chief John Cresie announced the verdict returned today following a trial that began on September 25 before U.S. District Judge Timothy S. Black.
According to trial testimony, the Ohio Adult Parole Authority, acting on a tip that Robinson was not living at his last reported address, went to a house in Butler Township on October 2, 2009 that they believed Robinson was sharing with a girlfriend. They entered the house and found personal items belonging to Robinson as well as firearms and ammunition. A grand jury indicted Robinson in March 2012.
"Federal law prohibits convicted felons from possessing firearms or ammunition," Stewart said. "The penalty for each count is up to 10 years in prison."
Robinson was convicted in Montgomery County Common Pleas court in 1997 of involuntary manslaughter and again in Montgomery County in 2008 of illegal possession of weapons.
Stewart commended the cooperative investigation by Butler Township Police, Adult Parole Authority officers and ATF agents, as well as Assistant U.S. Attorneys Mona Guerrier and Sheila Lafferty, who prosecuted the case.
Robinson will remain in custody pending sentencing on a date to be set by the court.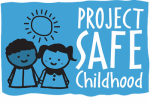 Help us combat the proliferation of sexual exploitation crimes against children.

Making sure that victims of federal crimes are treated with compassion, fairness and respect.