GALLOWAY MAN SENTENCED TO 14 YEARS IN FEDERAL PRISON FOR RECEIPT OF CHILD PORNOGRAPHY
CONTACT: Fred Alverson
Public Affairs Officer
(614) 469-5715
COLUMBUS –  Robert L. Wadsworth, 42, of Galloway, was sentenced here today to 14 years imprisonment for receipt of child pornography, after investigators found his internet IP address directly associated with a pornography file during a routine search in January 2011 for subjects in Franklin County who were distributing child pornography via the internet.
Carter M. Stewart, United States Attorney for the Southern District of Ohio, Brian Moskowitz, Special Agent in Charge, Immigrations and Customs Enforcement (ICE) Homeland Security Investigations, and  members of the Franklin County Internet Crimes Against Children (ICAC) Task Force, announced the sentence handed down today by U.S. District Judge Algenon L. Marbley.

Wadsworth pleaded guilty on May 6, 2011 to one count of receipt of visual depictions of child pornography in interstate commerce. According to the statement of facts filed in court, an investigator with the Franklin County ICAC Task Force located and downloaded a file directly from Wadsworth's internet IP address, which was found to contain an image of a prepubescent female posed nude.

A search warrant was subsequently executed at Wadsworth's residence, where investigators seized a digital camera and all of the computers and electronic storage devices found in Wadsworth's residence.  A forensic examination of the computer equipment revealed approximately 500 images and videos of child pornography, including images of nude prepubescent females in sexually explicit poses. 
Examiners also found five nude digital images of a 16-year-old female whom Wadsworth admitted he knew personally.  Investigators located and interviewed the 16 year old female and determined that she had gone to Wadsworth's residence a few weeks earlier, where she had consumed alcohol and passed out.  She stated that while she was semi-conscious and nude, she recalled Wadsworth touching her and taking photographs of her.
Wadsworth was also sentenced to serve 10 years on supervised release following his prison term.
This case was brought as part of Project Safe Childhood, a nationwide initiative designed to protect children from exploitation and abuse.  Led by the U.S. Attorneys Offices, Project Safe Childhood marshals federal, state and local resources to better locate, apprehend and prosecute individuals who exploit children.  For more information about Project Safe Childhood, please visit www.projectsafechildhood.gov/.
Stewart commended the cooperative investigation by the agents of ICE and the ICAC Task Force, and Assistant U.S. Attorney Michael Hunter, who prosecuted the case.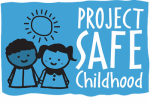 Help us combat the proliferation of sexual exploitation crimes against children.

Making sure that victims of federal crimes are treated with compassion, fairness and respect.