COLUMBUS MAN RECEIVES 188-MONTH SENTENCE FOR "SEXPLOITATION" OF A MINOR
CONTACT: Fred Alverson
Public Affairs Officer
(614) 469-5715
COLUMBUS – Randall V. Roberts, 42, of Columbus was sentenced in U.S. District Court here to 188 months in prison followed by 15 years of supervised release for striking up a relationship with a minor online, coercing her into illicit sexual conduct, and threatening to expose her actions if she stopped meeting him.
Carter M. Stewart, U.S. Attorney for the Southern District of Ohio, William Hayes, Acting Special Agent in Charge of U.S. Immigration and Customs Enforcement's (ICE) Homeland Security Investigations (HSI) in Ohio and Michigan, and Franklin County Sheriff Zach Scott, on behalf of the Franklin County Internet Against Crimes (ICAC) Task Force, announced the sentence handed down today by U.S. District Judge Michael H. Watson.
"Sexploitation means threatening to expose someone's sexual activity in order to keep them quiet or to keep them engaged in the activity," U.S. Attorney Stewart said. "It adds fear to the indignity and humiliation a victim is already facing."
In December 2011, Roberts contacted the then 14-year-old victim via a social networking website. Despite the victim's age, which was clearly indicated on her profile page on the website, the defendant engaged in ongoing conversations with her, convinced her to meet him to listen to music, and then pressured and coerced her to engage in sex acts with him. Even when the victim indicated that she did not wish to continue her relationship with the defendant, he continued to manipulate and pressure her, threatening to expose the victim if she did not comply. At one point, after apparently not hearing from the victim for a period of time, the defendant made it clear to the victim that she had no option except to continue meeting with him.
One of the child's relatives found text messages from Roberts on the child's phone and notified the ICAC Task Force. ICAC officers arrested Roberts on May 16, 2012. He has been in custody since his arrest. Roberts pleaded guilty in May 2012 to one count of coercion of a minor.
"The facts and evidence in this case clearly show that the defendant took advantage of the victim's youth and vulnerability to coerce her to do what he wanted," Assistant U.S Attorney Heather Hill wrote in a memorandum filed with the court prior to sentencing. "The fact that the defendant preyed on a vulnerable victim makes his actions that much more reprehensible."
"Protecting America's children from sexual predators is one of the most important public safety roles we have at HSI and sadly, it is a role that is very much needed," said William Hayes, acting special agent in charge of HSI Detroit, which covers Michigan and Ohio.  "All children have an absolute right to grow up free from the fear of sexual exploitation. We will continue to focus our efforts on identifying and investigating those who victimize children."
Judge Watson recommended that Roberts be placed in one of the Bureau of Prison institutions that provides Sex Offender Management Program (SOMP) or Sex Offender Treatment Programs (SOTP). While under supervised release, Roberts will be required to register as a sex offender anywhere he lives, works or goes to school.
This case was brought as part of Project Safe Childhood, a nationwide initiative launched in May 2006 by the Department of Justice to combat the growing epidemic of child sexual exploitation and abuse. Led by the United States Attorneys' Offices and the Criminal Division's Child Exploitation and Obscenity Section, Project Safe Childhood marshals federal, state, and local resources to locate, apprehend, and prosecute individuals who sexually exploit children, and to identify and rescue victims. For more information about Project Safe Childhood, please visit www.justice.gov/psc For more information about internet safety education, please visit www.justice.gov/psc and click on the tab "resources."
Stewart commended the cooperative investigation by ICAC members, as well as Assistant U.S. Attorney Heather Hill and Special Assistant U.S. Attorney Casey Russo with Franklin County Prosecutor Ron O'Brien's office, who prosecuted the case.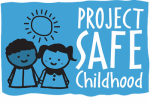 Help us combat the proliferation of sexual exploitation crimes against children.

Making sure that victims of federal crimes are treated with compassion, fairness and respect.