Welcome to the Report a crime web Page
The U.S. Attorney's Office is primarily a litigating office and not an investigative office. Almost all of the complaints received request that we investigate some allegation. We either refer those complaints to one of the investigating agencies or we return the complaint with instructions to go to one of those agencies. Your complaint will be more efficiently processed if you go directly to the most appropriate agency. Below is a list of the more common types of crimes with links to the appropriate agency information.
This list is not exhaustive, it is only a generic summary. You should visit the agency web pages and/or contact the agency directly for assistance and detailed information.
To see detailed contact information on all the above listed crimes, please click here.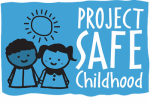 Help us combat the proliferation of sexual exploitation crimes against children.

Making sure that victims of federal crimes are treated with compassion, fairness and respect.